Durex Products to Launch New Products at CONEXPO-CON/AGG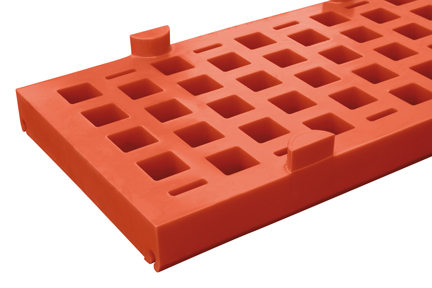 Durex Products Inc., based in Luck, Wisconsin, will display its multiple screen media solutions at CONEXPO-CON/AGG 2020, March 10-14, in Las Vegas.
The company offers a number of innovative screen media options, allowing customers to fine-tune their production to increase tons per hour while keeping products in spec and lowering their operating costs. New for the show will be Durex's lineup of modular urethane screen panels and urethane accessories. Durex has expanded its production facilities to once again offer a complete line of modular urethane screen panels and accessories for wet and dry applications. Modular panels and fastening systems are available for snap-in, pin-style, and bolt-in systems.
Durex modular urethane panels feature tapered openings that are wider at the bottom. This advanced design reduces plugging and increases throughput. Urethane accessories include magnetic liners for screen boxes, crusher mainframes, feed boxes, chutes, flumes, discharge openings, and ready-mix concrete plant and truck liners.
Source: Durex Products Inc.