Hydra-Slide Low Profile System Skids Transformer Under Bridge
A 310 t capacity Hydra-Side low profile skidding system was the centerpiece of a multifaceted transformer delivery and installation in Sweden recently.
The LP350 was used to skid a 240 t transformer under an overpass along the 40 km route from Sundsvall to Nysäter, and then into its final position. The 11 m long, 3.8 m wide, 4.7 m high transformer was delivered by Jinert, a Swedish lifting and material handling company, for its customer, DSV, a global transport and logistics firm. Including the truck, the entire transportation weighed in at 327 t.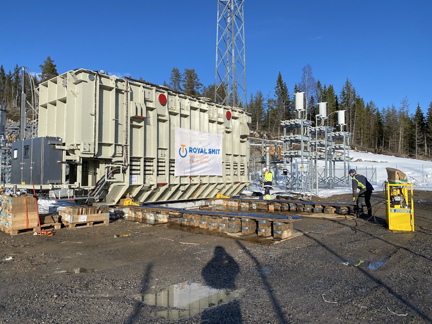 An overnight road closure was implemented to facilitate the underpass slide. Cold weather and snow presented further challenges for the night crew; trucks were called in to salt the road surface to ensure the equipment had sufficient traction.
In addition to the skidding equipment and gantry, Jinert also utilized jacks and a heavy trailer.
Jinert has a fleet of crawler cranes, mobile tower cranes, mini-cranes and crane trucks ranging in capacity from 22.5 t to 680 t, in addition to trailers for heavy transport, wheeled loaders and telescopic loaders.
Source: Hydra-Slide Ltd.