X-ray System Lets You Look Through Conveyor Belts
When testing steel cables in conveyor belts, a magnetic resonance method reaches its limits. A mobile X-ray system was able to help Vulkanisierungstechnik Mahnke GmbH with extensive analyses.
At the end of 2020, a steel cord belt of a conveyor system ran backwards down the conveyor bridge while the belt was being changed and "piled up" on the conveyor system. A magnetic resonance method was used to check the condition of the steel cables, but the results were only quantitative, i.e., not enough information to determine the inherent quality.
More precisely, 3 large suspicious areas, as well as about 30 other small potential damages, were detected. However, due to the technology on hand, combined with external disturbances, it was not possible to clearly determine whether the steel cables were torn or crushed. In addition, the results were not reproducible due to the prevailing environmental influences.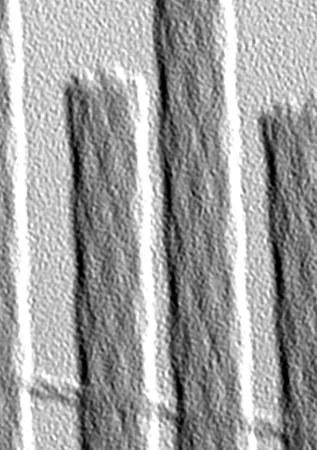 That is why Vulkanisierungstechnik Mahnke approached VisiConsult, a specialist for customized X-ray inspection systems, for a solution.
The system had to be set up on short notice. The X-ray method clearly showed the structure of the steel cables with a very high resolution, and the X-ray analysis was able to rule out breaks, tears or even warping of the steel cables at all detected points.
For this application, an Xplus Mobile System consisting of a digital detector and a portable X-ray tube was used to visualize the steel inside of the conveyor belt.
Due to image filters, details of the individual wire ropes can be made even more visible.
"Under difficult conditions it was possible to create absolutely high-resolution images. So, we're pretty excited," said Sven Gross, authorized signatory at Vulkanisierungstechnik Mahnke. "We see a huge potential in performing condition monitoring of large, especially non-redundant conveyer belts."