Fourteen Hundred Miles Southwest, Three Miles High
Porsche has entered the Guinness World Record books after a Taycan Cross Turismo was used to set a new benchmark for the greatest altitude change ever achieved by an electric car – 4,842.967 m, or just over 3 miles.
"It started as a 'what if?' – a passion project, mixing our love for cars and travel and taking it to extremes," said J.F. Musial, a creator of automotive films and TV shows from Pikes Peak, Colorado. "We wanted to drive from the lowest point in America to one of the highest, Pikes Peak – where we've spent countless hours filming the famous hill climb. The project relied on a lot of goodwill, and a car that's pretty much unique in its mix of abilities."
The lowest point in America is Badwater Basin in Death Valley, California, at 86 m below sea level. To go any deeper, you have to go underground. And so the team did exactly that, thanks to the generous support of the enthusiast staff and operators at Eagle Mine in Michigan. This high-grade nickel and copper mine is the only mine in America where a car can be driven to sufficient depths, down a ramp usually used by specialist mining vehicles.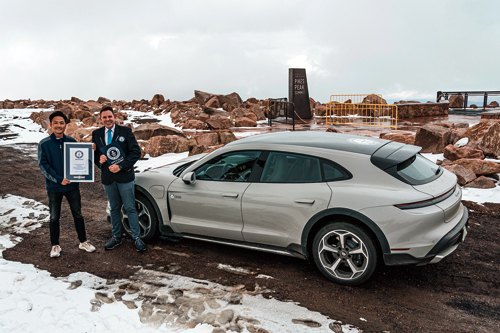 In a little over a day, the Porsche Taycan Cross Turismo went from the bottom of the nickel and copper mine – at a depth of 540.8 m below sea level – to the summit of Pikes Peak at 4,302 m, travelling over 2,250 km pausing only for both humans and the car to momentarily recharge.
Their achievement has been recognized by Guinness World Records – setting a new benchmark for the greatest altitude change ever achieved by an electric car.
The battery electric Porsche Taycan Cross Turismo met Eagle Mine's criteria for being allowed to drive through the portal and into the tunnel itself.
"It was fitting to have the Porsche Taycan drive to the bottom of our nickel and copper mine, as both elements are essential to electric vehicles. After numerous risk assessments, safety discussions, and detailed planning, our mine team was up to the challenge. We are proud to have worked with Porsche to safely execute and complete a new world record," said Darby Stacey, managing director for Eagle Mine.
Pikes Peak is home to the Pikes Peak International Hillclimb, which will run for the 100th time this year.
In total, 3 groups of drivers working in tandem took on the driving duties. The journey took them across 6 states. Along the way they encountered sun, rain, snow and ice.
Fittingly, it was Dai Yoshihara – class winner at the 2020 Pikes Peak International Hill Climb – behind the wheel for the final, recordbreaking stage of the drive.
"It was among the hardest things I've ever done, but I guess that's why it's a record!" concluded J.F. Musial. "Thank you to the teams at Eagle Mine and Pikes Peak, and at Guinness World Records, for supporting what started out as a daydream and ended up being something none of us will ever forget. Now, I need to sleep for a week…"
Source: Porsche Cars North America, Inc.