New Rayco® 4000AWL Articulated Wheel Loader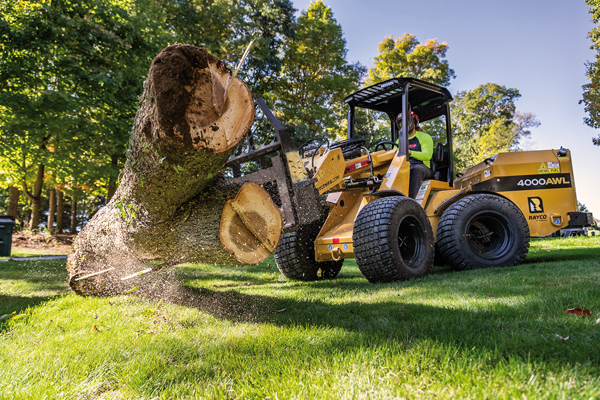 Morbark, LLC, debuted the Rayco 4000AWL Articulated Wheel Loader at the TCI Expo in Indianapolis, Indiana, last November. The company also offered an overview of additional equipment within the Morbark, Boxer, Denis Cimaf, and Rayco brands that complement the equipment needs of tree care professionals.
The 4000AWL is designed to meet the material handling needs of landscape contractors, tree services, rental companies, municipalities, and agricultural businesses. This turf-friendly, highly maneuverable articulated wheel loader offers a light footprint and heavy workload. Designed to meet the material handling needs of tree services, landscapers, rental companies, municipalities, light construction, and agricultural business, the 4000AWL can take on a multitude of big challenges in tight areas while minimizing ground disturbances. In addition, the 4000AWL offers impressive lifting capacity and a compact size that easily works inside fenced-in yards, pens, nurseries, and more.
The telescoping boom provides excellent lifting and dumping height, enabling loading on high-sided trucks and other applications that require extended reach. The 4000AWL has a maximum lift height (measured at the hinge pin) of 3.2 m. With its 48-hp (36-kW) Isuzu 4LE2T diesel engine, the 4000AWL generates a working lift capacity of 1,814 kg.
The small footprint and articulating design give operators the agility they need to maneuver in close quarters. At the same time, the turf tires provide minimal turf disruption when making turns.
Source: Morbark, LLC