Terex Unveils Its New TRT 35 Rough Terrain Crane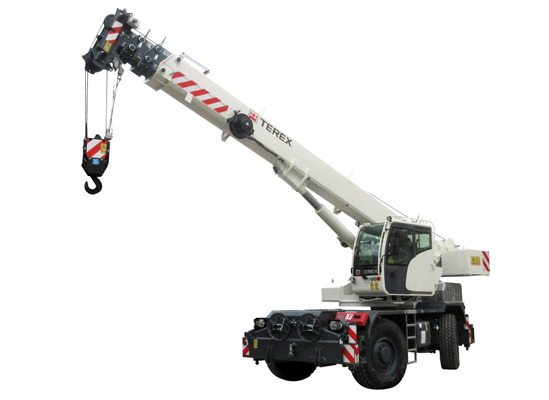 Terex Cranes unveiled its new TRT 35 Rough Terrain crane at GIS, Italy's lifting show held in Piacenza last October. The new model will expand the Terex TRT rough terrain offering, following the successful launch of the TRT 80 and the TRT 90 earlier in 2021. The range features the Terex Operating System (TEOS) that improves safety, usability, efficiency of navigation, operation and information flow.
"The addition of the TRT 35 will enhance an already significant product range offered by Terex Rough Terrain Cranes, meeting both market and customers' needs for a flexible yet durable off-road crane. As well as the intuitive TEOS control system, the TRT cranes have compact dimensions, proportional telescopic boom, full power and come equipped for T-Link telematics platform allowing geo localization and remote diagnostics," said Guillaume Bertrand, RT sales manager, Terex Cranes.
The TRT 35 is a 35 t rough terrain crane with a synchronized, 4-section boom that gives the operator the best lifting performance, regardless of the boom length. With a machine width of only 2.5 m, the crane can be easily maneuvered, even on congested jobsites with narrow or confined areas. Maneuverability is also enhanced by having 4 steering options. The TRT 35 is equipped with a powerful but frugal Cummins engine with Eco Mode function.
Adding to its versatility, the TRT 35 has Powershift (permanent 4-wheel drive) with 2 modes to satisfy operators driving style: manual mode with 3 speeds forward and 3 speeds reverse, and automatic mode with 5 speeds forward and 3 speeds reverse.
Terex T-Link telematics, which provides customers with real-time information on the performance of their crane comes as standard on the TRT 35, along with LED lights.
Further available options include: a side stowable 8 m lattice type jib, a radio remote controller, an auxiliary winch, outrigger control from the carrier, anemometer and cameras integrated with the 10" touchscreen display.
A North American version of the TRT 35 will be available in early 2022.
Source: Terex Corporation