John Deere Completes Lineup of P-Tier Excavators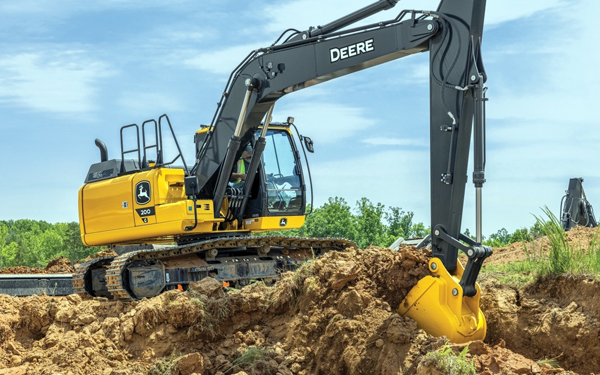 Aimed to deliver a range of products at different levels of capability and user experience, John Deere debuts its latest P-Tier and G-Tier excavator models to its portfolio of mid-size machines. As part of its Performance Tiering Strategy, John Deere has added the 135, 210, 245, 250, 300 and 345 models to its lineup. In addition, John Deere is introducing a brand-new model to its family of G-Tier excavators: the 200 G-Tier.
The P-Tier excavator models can be counted on to produce at high levels, day in and day out. These models boast advanced features and deliver exceptional performance, efficiency and comfort.
The latest addition to the John Deere lineup of mid-size excavators is the brand-new 200 G-Tier. Helping to enhance efficiency and reliability without sacrificing power or torque, the PowerTech 4.5-l engine on the 200 G-Tier delivers optimal performance for operators of all skill levels.
The Powerwise Plus hydraulic-management system in the 200 G-Tier combines extra ability with smooth control and pinpoint finesse with on-demand power and precise pump flow.
Customers looking to make the most of their machines can benefit from 2 factory-installed high-pressure, high-flow auxiliary packages, which deliver additional hydraulic capability to power attachments.
The lineup of John Deere G- and P-Tier excavators can be equipped with a full line of buckets, which are offered to meet the needs of a wide variety of applications. The new hydraulic coupler-ready option includes factory-installed hydraulic plumbing to the end of the arm, additional coupler controls integrated into a switch in the cab and a quick and efficient coupler installation capability. Popular in the underground segment, couplers allow excavators to efficiently switch attachments and get more productive working hours each day.
Source: Deere & Company