For the Big Moves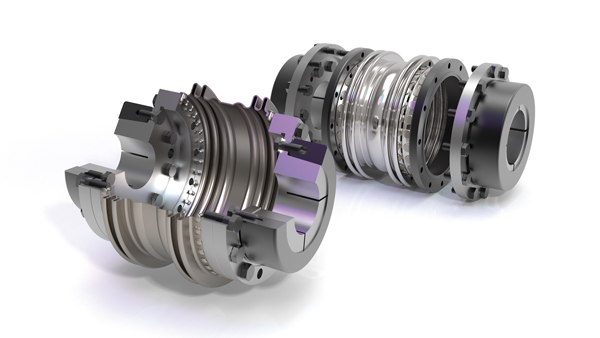 Safe and accurate transmission of torques is essential for precision drives of cross cutters. This is ensured by the use of steel bellows couplings with force-fitted shaft-hub connection.
The metal bellows couplings of the KXL series from JAKOB Antriebstechnik GmbH were designed for medium and large drives up to a maximum of 65,000 Nm. A special design feature is the 3-piece design with a flexible bellows package as an intermediate piece. This removable intermediate piece, consisting of an optimized, torsionally stiff stainless steel bellows with 2 bellows shafts per side and a variable length intermediate pipe, is frictionally connected (screws ISO 4017 / 10.9) with the 2 hubs.
This simplifies the assembly considerably, since in the case of maintenance or service, for example, it is no longer necessary to carry out time-consuming dismantling of the heavy drive or output units. The designer has several hub variants available for many specific application. The extremely favorable moment of inertia and the rotationally symmetric design ensure good dynamic performance. The KXL couplings are particularly suitable for precise drives, such as for presses, cross cutters, main spindle drives, transfer axes or transmission connections. A media transport or a parallel drive train through the coupling interior is basically possible. The connection to the shafts can be done either as a conical clamping ring hub or as a flange hub.
Source: JAKOB Antriebstechnik GmbH