InfraGuide Helps Revitalize Aging Canadian Infrastructure
InfraGuide, the National Guide to Sustainable Municipal Infrastructure
Canadian municipal infrastructure is aging and not doing it gracefully. Almost 60% of Canadian infrastructure is over half a century old and another 30% is over 80 years old. It is at this point that wear and tear is evident, forcing much needed money to be directed at infrastructure upgrades and improvements.
Canadian municipalities spend an astonishing $12-15 billion annually on infrastructure, yet Canadians are becoming more and more frustrated with the state of their roads, public transit, and other municipal services. Eighty percent of infrastructure investment is aimed at system repair, renewal, and operation just to keep up the status quo, leaving little for innovation and new projects. At the same time, the rapid expansion of new technology and innovations in infrastructure places a big burden on municipalities, forcing them to balance cutting edge solutions with the need to repair and maintain existing systems. Municipalities are often uncertain as to how to make these decisions and find themselves without the necessary resources once changes need to be made.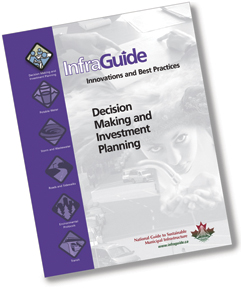 InfraGuide: An Innovative Concept
InfraGuide, the National Guide to Sustainable Municipal Infrastructure, is here to help municipalities when making these tough infrastructure decisions. InfraGuide has developed several decision-making and investment planning tools and over 50 technical best practices, creating a road map to the best available infrastructure solutions for all Canadian municipalities. InfraGuide is also rapidly becoming the focal point for the pan-Canadian network of practitioners, researchers and municipal governments focused on infrastructure operations and maintenance. In short, InfraGuide represents the infrastructure needs of municipalities across Canada.
The development of a national guide on municipal infrastructure consolidates the vast body of existing infrastructure knowledge and shapes it into best practices that can be used by decision-makers and technical personnel in the public and private sectors. It also provides valuable instruments for municipalities to build essential capacity for long-term strategies. The InfraGuide target areas are: decision-making and investment planning, potable water, storm and wastewater, municipal roads and sidewalks, environmental protocols, and currently in development, transit.
InfraGuide Best Practices Helps Halifax Saves Millions
InfraGuide's leading edge practices have helped many municipalities save hard-earned infrastructure dollars while leading them to a sustainable future. In Halifax, these practices have helped the Halifax Regional Water Commission save millions of dollars through a holistic approach that reduces leakage within the water distribution system. This approach centers around leak detection, metering, speed and quality of repairs, and asset management.
InfraGuide was the first Canadian organization to create a concise document entitled Water Use and Loss in the Distribution System. Subsequent InfraGuide best practices on this topic include Establishing a Metering Plan to Account for Water Use and Loss and Speed and Quality of Linear System Repairs, which detail the technologies that can be used to reduce leakage effectively. As a result of adopting these best practices and previous efforts, the Halifax Regional Water Commission has managed to reduce the leakage of potable water from its distribution system by 6 million gallons per day or almost 30 million liters per day. This adds up to savings of half a million dollars a year and has reduced wear and tear on the system, extended its life cycle, and caused less disruption of service to customers.
London Successfully Coordinates Infrastructure Works through Uptake of InfraGuide Best Practice
The City of London has successfully applied the InfraGuide best practice Coordinating Infrastructure Works, resulting in significant efficiency gains in the areas of Pavement Degradation Fees and Local Improvement Charges. By using this best practice, London has witnessed several positive steps towards a widely coordinated infrastructure program, bringing significant credibility to the practices the City of London implements while minimizing disruption and maximizing the value of their infrastructure works.
As a result of adopting this InfraGuide best practice, the City of London has gained considerable legitimacy and municipal administrators are now aware of how to further improve future infrastructure works. The procedures that were implemented as a direct result of this best practice have provided the City of London with significant benefits and have moved the municipality towards more effective coordination of its infrastructure projects while providing a comprehensive projected timeline. This best practice, as a nation-wide endorsed reference tool, has brought momentous credibility to the practices the City of London is trying to implement and is an important tool for council, providing a base understanding of the issues and resulting in positive proactive steps.
Join our Growing Organization
InfraGuide has helped lead many municipalities towards a more sustainable future. Over 70 municipalities have endorsed the InfraGuide concept, becoming members of the ever-growing Network of Excellence.
To find out more, contact our hotline: 1-866-330-3350.
You can download our many best practices free of charge and access our growing network by visiting: http://www.infraguide.ca
What some of our Members are saying about InfraGuide:
"InfraGuide is a unique opportunity for all infrastructure providers to share information on a national basis that enables infrastructure to be delivered more cost effectively while respecting the social and environmental needs of the community."

City of Edmonton, Alberta

Report to Council

"Since the adoption of the InfraGuide best practices, Cambridge has allocated $1.5 million towards the development and implementation of an Asset Management System ­ an information system that will form the foundation of long term capital planning of the City's infrastructure and a tool that staff will use to achieve full cost recovery and sustainability."

Ed Kovacs, P. Eng.,

Commissioner of Transportation & Public Works,

City of Cambridge, Ontario