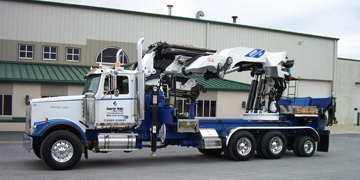 Weaver Precast Selects Western Star 4900 FA as Flagship of its Crane Fleet
Weaver Precast, a prefabricated foundation wall manufacturer and installer based in Ephrata, Pa., recently installed North America's largest and longest knuckle boom crane on a Western Star truck chassis.
The Effer crane, which will be used to install basement walls in mostly residential homes, is considered a knuckle boom crane because of its unique telescoping design and capabilities. With a 360-degree working radius, it can safely handle up to two tons with excellent control while extended at 100 feet. Plus, its design allows it to collapse and closely hug the chassis, making it safely transportable.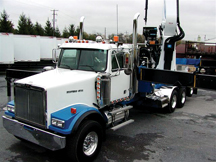 Weaver Precast selected the Western Star 4900 FA with Cat C15 engine because of its off-road durability and lightweight frame. With a GVWR of less than 75000 pounds, the truck also is able to stay within weight laws while traveling.
"We chose Western Star because of its reputation for rugged toughness while off-road, since we'll primarily use this crane on residential building sites throughout New Jersey, Eastern Pennsylvania, and Delaware," said Dan Martin, Vice President of Operations for Weaver Precast. "The crane helps us install larger walls than ever before, and our Western Star is able to provide the stability needed for this application."
The truck also is spec'd with an 18-speed Eaton Fuller transmission, Meritor front and rear axles, AirLiner rear suspension, and a standard air ride cab with a premium, customized interior.
"Our operator really likes the layout of the cab," said Martin. "It's extremely comfortable, which is important when traveling between job sites in the region."
Weaver Precast, a Superior Walls franchise, employs about 100 people and installs approximately 1800 foundations a year. They manufacture, deliver, and install precast basement walls primarily for residential use.
Source: Western Star Trucks