Concrete Operations Realize the Benefits
of Using Tire Pressure Control System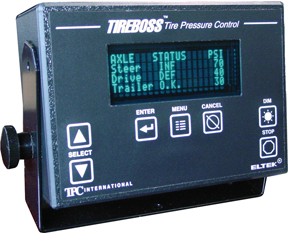 Salma Kaida, Tire Pressure Control International
TPC International wants to revolutionize the way the concrete industry gets around; and they are well on their way. The company manufactures, assembles and distributes the TIREBOSS Tire Pressure Control system, an electronic device that allows truck operators the flexibility to optimize tire pressures from the truck cab while on the move. The technology, colloquially referred to as central tire inflation (CTI), differs from early versions as it not only allows for a reduction in tire pressure to suit load and speed conditions, but allows the driver to re-inflate once conditions change.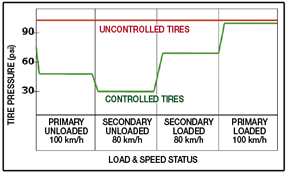 Tire pressures are generally specified to permit a vehicle to carry a full payload at highway speeds without overheating its tires. Consequently, when the vehicle is partially loaded, unloaded, or travelling at reduced speeds, its tires are over inflated for the operating conditions.
TIREBOSS was initially introduced to the forest industry to assist them when hauling wood in remote areas. But, it has since been realized that anyone operating heavy vehicles in soft ground can reap the benefits that a longer tire footprint would provide. Increased mobility and traction, reduced road and site damage, extended tire life, and a smoother ride are benefits whose effects are welcome across various applications. Currently, the concrete industry is successfully utilizing the technology on mixer trucks.
How can a concrete mixer get significant increase in the production of the concrete hauling operation? According to Conley Jahna, operations manager of Jahna Concrete Inc., installing new TIREBOSS Tire Pressure Control systems on his trucks is one way to accomplish this.
Mr. Jahna says, "Since installing TIREBOSS, we have realized many benefits to our Ready Mix Operations. We have been able to retain and land new customers because we can get into and out of job sites unassisted in tough conditions. Customers now request the trucks equipped with TIREBOSS because it improves their productivity."
Like Jahna Concrete, Bill Nagy, vice president operations of Prestige/ AB Ready Mix, Inc., has also implemented the systems to enhance the company's competitiveness in the concrete market place. To date, he has over a hundred trucks equipped with TIREBOSS Tire Pressure Control systems.
Mr. Nagy attests to the performance and advantage of the systems. According to him, trucks equipped with tire pressure control systems outperform 6X6 trucks, and he is realizing significant cost savings on tire replacements. He says, "Since the installation of TIREBOSS, the tire bill has been reduced by approximately 25%."
In Quebec, Demix has achieved great success with the TIREBOSS system. In 2005, a first phase will have made it possible to bring into service TIREBOSS systems on concrete mixers without front-wheel drive (8X4) in Quebec, St-Jovite, Valleyfield and Richmond. According to Gaston Paradis, superintendent of the mobile equipment, "The TIREBOSS units outperform front-wheel drive configurations, particularly in sand and agricultural land." By promoting the use of vehicles with higher payload capacity, the TIREBOSS system represents a very advantageous alternative to front-wheel drive vehicles. For 2006, a second phase of implementation is already on with a greater number of vehicles and new divisions.
Controlling tire pressure provides remarkable mobility in extreme conditions. The results reduce overall operating costs and increase productivity of operations.
See how it can help you!