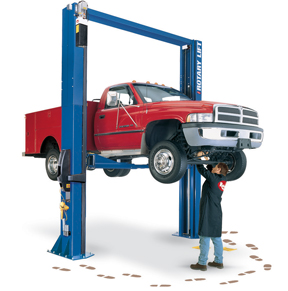 Save Steps with Rotary Lift Two-Post Lifts
Based on extensive customer input, Rotary has updated its popular two-post vehicle lifts equipped with inbay® technology. All Rotary Lift two-post lifts with inbay® feature dual controls (one on each post) now with technician-approved mechanical push buttons.
"Dual controls are more convenient for technicians and they increase productivity," explains Bob Ford, Rotary product manager. "We have found that technicians using Rotary Lift two-post lifts with dual controls save an average of 13 steps every time they want to raise or lower the lift, because they don't have to walk all the way around the vehicle. They can just use whichever control panel is closest."
Other features of inbay® include one-touch controls, integrated air/electrical connections, a standard OSHA-compliant lockable disconnect switch, and a power unit that is located at the top of the post, out of the way. Rotary Lift two-post lifts are available with both true symmetrical and true asymmetrical column orientations. Lift capacities range from 7 000 lbs. to 18 000 lbs., making it possible to service a wide range of vehicles, from passenger cars to commercial trucks. Rotary Lift two-post lifts can be ordered with two-stage arms equipped with three-position adapters or with three-stage arms that increase the overall arm sweep and reach for lifting vehicles with unibody construction, visually marked pick-up points, wider tread width and lower profile or a wheelbase that is unusually short or long. Three-stage arms use polymer adapters to prevent metal-on-metal contact, thus protecting the vehicle's pick-up points.
Most Rotary Lift two-post lifts are ETL tested and certified by the Automotive Lift Institute (ALI) to meet or exceed ANSI standards. They are built with Rotary's patented "Double S" single-piece construction column design to maximize column strength as well as the surface contact area of the self-lubricating slider bearing blocks. Unlike most other lifts, Rotary Lift power units are designed and built by Rotary in the United States, specifically for Rotary lifts. Other manufacturers use third-party power units designed for universal applications.
Based in Madison, Indiana, Rotary is the world leader in service bay productivity and lift systems manufacturing. The company provides its customers with a competitive advantage by combining the real-world needs of technicians with new, innovative productivity tools and solutions. The result enables technicians to get more done and drive more profit to the bottom line.
Rotary is also recognized as the only North American lift manufacturer certified to ISO9001 quality standards. Rotary is a subsidiary of the Dover Corporation.
Source: Rotary Lift