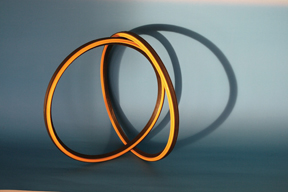 Sarlink® Gets KIWA Pipe Seal Approval
Sarlink® is the first Thermoplastic Elastomer to be approved for the KIWA BRL 2020 seal specification. After successful product development, intense testing at DTE, and extensive tests by KIWA, the approval was given in December 2005.
The BRL 2020 specification is based on the European norm EN 681-2 and has been extended with severe elasticity and temperature demands. The specially developed Sarlink grade not only fulfills the BRL 2020, it also shows superior performance in other important parameters related to pipe seal applications such as long-term stress relaxation.
Sander Ridder, DTE's market manager for Building & Construction, says: "Sarlink Thermoplastic Elastomers are especially suitable for waste water pipe seal applications because of excellent long term sealing performance and very good chemical resistance compared to typical thermoset rubbers. Furthermore design freedom and the possibility of co-injection moulding give seal and pipe producers opportunities to lower production and assembly costs. Sarlink can be recycled during the production process which will reduce scrap rates."
DSM Thermoplastic Elastomers produces Sarlink® thermoplastic vulcanizates, with production facilities in United States and Belgium.
Source: DSM Thermoplastic Elastomers