P.A.M. For Concrete Demolition
P.A.M., a positioning-actuating-manipulator capable of supporting a wide range of pneumatic hammers and demolition tools, is manufactured in Canada by RNP Industries Inc.
Building on many years of experience in the logging industry, the staff at RNP came up with this highly portable, labor saving, device.
The issue that was drawn to their attention was the hazardous and injury prone use of percussion hammers in the rehabilitation of concrete and masonry bridging and arching. The nature of this work requires that operators physically manoeuvre the impact hammers above waist height and overhead. They must do this with some precision whilst performing repairs, renovations and restorations not required for demolition purposes.
The much increased productivity provides contractors with a competitive edge and more flexibility in job costing and delivery time.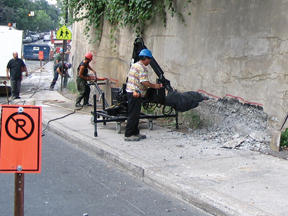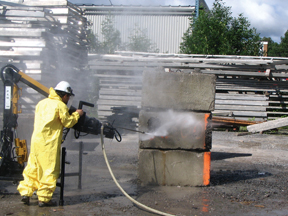 A quick pay-back can be realized on P.A.M. purchases. Another advantage to the contractor is the significantly reduced risk of injury to the workers.
The multi-purpose socket is capable of holding a wide range of hammers and tools.
The robust frame of the machine can withstand repeated chipping impacts.
Operation is effortless. Fingertip controls are easy to use and P.A.M. supports the weight of the tool and can swing over 100°.
The unit can be powered by pneumatic-hydraulic, electric or engine power unit.
Source: RNP Industries Inc.

RNP Industries Inc. will take part in the upcoming National Heavy Equipment Show at the International Centre in Toronto on March 22 and 23, 2007