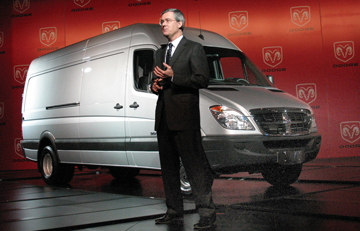 Dodge Introduces All-New Sprinter
Armed with an all-new supersized Sprinter, Dodge continues to build on its presence in the commercial-vehicle market.
Compared to the previous model, the all-new Dodge Sprinter is 50 mm wider and it offers a 280 mm higher interior height.
The Sprinter is available in three vehicle lengths on two new wheelbases of 3665 or 4325 mm - the shorter 3250 mm wheelbase model available in Europe is not offered in Canada - with an extended version available on the long wheelbase model. Sprinter also boasts three interior-roof height options.
The 2007 Dodge Sprinter takes versatility to an all-new high with the new mega-roof option. Providing enormous cargo volume and up to 2,14 m of interior height allows customers to work inside the vehicle in comfort.
GVWR configurations of 3500 and 4600 kg are offered as well as a new higher maximum GVWR of 5000 kg for cargo vans and chassis cabs.
Designed with the body builder in mind, the Dodge Sprinter Chassis Cab features flat frame rails, bolted rear cross-frame member, and fuel-filler neck and nozzle integrated with the cab, which eliminates the need for re-routing or to build bodies around the fuel-fill system.

The new Sprinter is powered by a 3,0 l Mercedes-Benz OM642 DE30 LA turbodiesel V6 and a 5 speed automatic transmission.
The same aluminium-block engine is available in other DaimlerChrysler vehicles. It is light and smooth. It features a particulate filter to satisfy emission norms.
Source: DaimlerChrysler