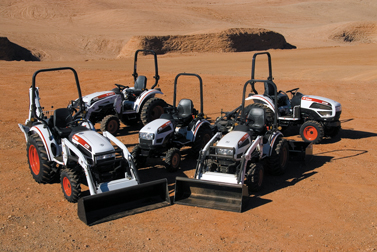 Tracteurs compacts Bobcat
Bobcat Company introduces a new line of compact tractors.
Five models ranging from 20 to 35 hp are already available at select Bobcat dealerships in Canada. The four remaining models will be introduced throughout 2008.
The Bobcat compact tractors feature four-wheel drive for traveling over and working in rough terrain, and also come with hydrostatic transmissions for easy operation.
The compact tractors can be used with Bobcat implements, including an angle blade, auger, backhoe, box blade, finish mower, seeder and tine rake, as well as a front-end loader and attachments.
In line with the Bobcat reputation for offering customers durable and reliable equipment, the compact tractors have sleek hoods and side panels made of tough, durable steel. Their design provides superior visibility to the front of the tractors. Standard comfort and safety features include a spark arrestor muffler, horn, brake lights and operator's handbook, as well as an optional Bobcat suspension seat and a fully retractable seat belt. The roll-over protective structure (ROPS) can be folded down to make transportation and storage of the tractor more convenient.
Fifty years ago, Bobcat Company unleashed a way to work better, smarter, faster. During 2008, the company is celebrating the 50th anniversary of Bobcat compact equipment, which began with the Melroe Self-Propelled Loader - a three-wheeled front-end loader - in 1958. That machine evolved into the Bobcat skid-steer loader and spawned the worldwide compact equipment industry. Today, Bobcat continues to lead the world in the design, manufacture and distribution of compact equipment.
Source: Bobcat Company