Tight Turning Radius Puts Champion Compact Graders into Better Roads Winner's Circle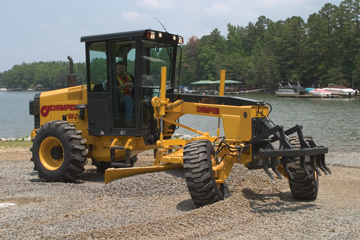 The latest "big ideas in small graders" from Champion Motor Graders has earned special recognition from Better Roads Magazine as the company's new C60 and C66 C Series Compact Graders headlined the 50 Top Rollouts for 2007.
The 50 Top Rollouts are chosen by the editors of Better Roads Magazine to recognize the product introductions over the past year that have the most significance to highway and bridge professionals. Better Roads reviewed more than 600 entries in its New Products section last year, then selected their short-list of new concept products and new model introductions for the Top 50 year-end feature.
Champion's introduction of the C Series updates to its two single-axle compact graders was highlighted by a re-engineered front axle that achieves the tightest turning radius in the industry. The C Series front axle allows 50° of steering angle left and right, an improvement of 15° over previous models. With the frame fully articulated, both machines are able to turn 360° within a 5,33 m circle. The C60 C is Champion rear-drive single axle machine, while the C66 C is the All Wheel Drive version.
Bryan Abernathy, vice president of Sales & Marketing at Champion, is pleased with the acknowledgement Better Roads has accorded his engineering team. "As an engineering parameter, all Champion Motor Graders, whether compact or production class, are all about superior maneuverability in restricted spaces. From that standpoint, we just set the bar higher for the entire grader category."
The new front axle in C Series models also raises the ground clearance capability of the small graders to rival full-size equipment. Now raised 15 cm higher, the ground clearance of the C Series front axle tops 56 cm. "The obstacles you encounter on a jobsite don't get smaller just because you have a smaller machine!" says Mr. Abernathy. "Now compact graders can go where the big graders go."
Additional features of the Champion C Series models include a taller moldboard, a strengthened frame articulation design and a wider blade-lift arrangement.
One of the oldest names in the equipment industry, Champion Motor Graders has specialized in the development of compact graders and attachments for over 25 years. Champion engineering and manufacturing, based in Charlotte, NC, are dedicated to the production of compact machines that assure customers of the same productivity and quality standards they expect from the best in full-size construction machinery. The Champion line-up now includes seven basic models with operating weights from 5500 to 11 000 kg, featuring the full range of single-axle, tandem and all-wheel 4x4 and 6x6 drive systems. Champion continues to develop a growing range of specialized equipment for the road maintenance and paving industry.
Source: Champion Motor Graders