Multiple-Use Earplugs Enhance Communication and Worker Safety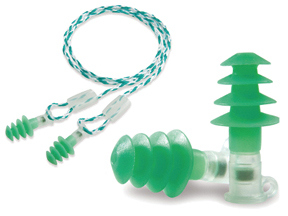 Designed to keep workers connected to their environment without compromising protection, Howard Leight's new Clarity® multiple-use earplugs improve worker safety and communication by blocking hazardous noise while allowing voice and signal frequencies to be heard more naturally. Utilizing Bilsom® Technology's patented Sound Management Technology (SMT), the Clarity earplug delivers uniform attenuation that blocks low and medium frequency noise while enhancing the perception of higher voice and warning signal frequencies without distortion.
Designed for long-term comfort, Clarity incorporates a multi-material design and translucent stem with an SMT membrane to regulate the transmission of sound frequencies through the earplug and ear canal. Its FlexiFirm core facilitates insertion, and a quadruple SoftFlange® seal helps ensure proper fit. Clarity's low NRR of 21 dB provides ideal attenuation for workers exposed to low levels of hazardous noise, and minimizes the risk of overprotection in marginal noise environments.
Clarity is available in two sizes to accommodate a wide range of ear canal shapes and sizes. A corded version also includes an exclusive attached Cord Adjuster that allows workers to adjust the woven cord's length to their personal preference or application requirements. Clarity earplugs are ideal for transportation workers, light manufacturing, warehousing, laboratories, food processing, and other work environments with low levels of hazardous or nuisance noise.
Source: Sperian Hearing Protection, LLC