Something New for Dock Levelers!
Produits Hévéa Inc., a leader in the fabrication of vulcanization of rubber products reinforced with steel, offers a new product innovated for enterprises concerned with the health and security of their fork lift operators.
The repetitive pumping when loading and unloading with fork lift vehicles affects the operator physically more than we realize, in particular to their back and neck.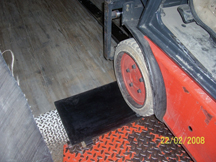 This new cushion ramp, which is easy to install, is robust and consists of two vulcanized rubber plates on steel weighing 9 kg each, specially developed to reduce the impacts as well as reduce the risk of injury. After a limited amount of modifications to your dock this new installation will reduce noise and maintenance costs to your lifts.
Source: Produits Hévéa Inc., (819) 826-5955

Video demonstration on