The Minerals Separator Meets the Demanding Screening Requirements of Minerals Applications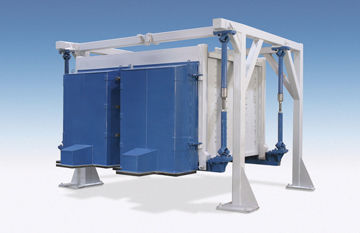 The Minerals Separator from ROTEX Global, LLC provides unsurpassed screening performance when sharp separations and high efficiencies are required. Specifically designed to meet the demanding screening requirements of minerals applications, the machine provides higher capacity per square foot of screen, continuous operations up to 205°C, and maximum screening efficiency.
The machine's compact footprint provides maximum screening surface and higher capacity per square foot of screen than machines with larger footprints. The surface area is maximized, therefore increasing the amount of minerals separated in a small area. The stacked, multiple deck, tray-access design allows individual screen access without the need to remove all decks. Single deck screen changes can be made in ten minutes (all twelve decks in two hours).
An external drive cartridge allows continuous operation at a high material temperature. This allows the machine to maximize product recoveries at temperatures of up to 205°C. The drive utilizes a support shaft suspension system constructed of sturdy industrial U-joint bearings and no maintenance, low, torsion center springs. The Minerals Separator is also equipped with a single reaction cartridge with two spherical roller bearings ­ designed for 200 000 hours of service.
The Minerals Separator maximizes screen efficiency by utilizing a screen deck slope of 6° that is designed to meet demanding product specifications. The unique elliptical-linear motion of the machine provides unsurpassed screening performance to accurately and efficiently handle coarse to fine separations from 6,3 mm to 150 µm through equal feed distribution, uniform bed depth, and aggressive blinding control.
Single or double inlet plenum options with sliding inlet connections with long life Teflon wear rings are available. Optional floor mounted suspension stand for installations without overhead support are also available.
The Minerals Separator is ideal for applications in mined minerals and abrasives, such as: sand, roofing granules, potash, salt, clay, and borax.
Source: ROTEX Global, LLC