New Hybrid Hydrodemolition Robot from Aquajet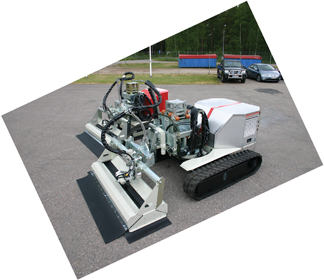 Hydrodemolition specialist Aquajet Systems has introduced the world's first hybrid robot offering dual-power features with simple "switchover" operation.
A new diesel/electric-powered hybrid hydrodemolition robot introduced by Swedish specialist company Aquajet Systems, offers a wide range of new features, including pollution-free operation in enclosed areas in electric-mode.
Simple "switchover" operation ensures easy change to diesel power eliminating, for example, the need for electric cables.
In electric mode, a "slow start" electric motor, ensures initial reduced operation accepting full load in up to 5 seconds, thereby preventing power surge failures.
Featuring an optional extended mast height of up to 9 m, the new robot is 20% larger than conventional models and offers larger, adjustable tracks to provide a variable width of between 1,5 – 2,0 m; for increased stability if required.
The hybrid model also incorporates a new type of steering drive to turn and twist the units powerhead at the increased heights to provide improved precision.
Aquajet has also developed a multi-axis system allowing the powerhead to be moved quickly, allowing it to work on vertical, curved or horizontal surfaces. The system can also turn the powerhead 180º in the horizontal position.
Additionally, to further speed operation, the robot has been designed to turn through 90º travelling along the wall surface. This together with the side movement of the powerhead eliminates the constant "stop-start" turning of the robot.
The robotic units can operate vertically, horizontally and overhead as standard. Attachments allow removal in specialist situations, for example, underneath bridge decks or underwater.
The hybrid Aquacutter features an automated control system that optimizes settings and applies the minimal force required. This allows the robot to operate selectively, with its high pressured jet of water penetrating into the weak concrete as is passes across the surface.
An innovative intelligent sensing controlled system and a patented high-pressure lance control combine to offer high efficiency and performance.
The EDS system optimizes the angle of attack as well as ensuring the nozzle remains at the correct set distance. This in turn ensures that the optimum "angle of attack" can be selected, maintaining maximum power from the jet, whilst keeping the nozzle at the correct set distance from the surface independent from the selected angle of attack.
The angle can change by as much as + to – 30º maximizing concrete removal around the reinforcing bars.
The hybrid systems power pack is powered by a 20 hp engine or a 15 kW electric motor.
Source: Aquajet Systems AB