New Ascorel Dealer for Ontario and Manitoba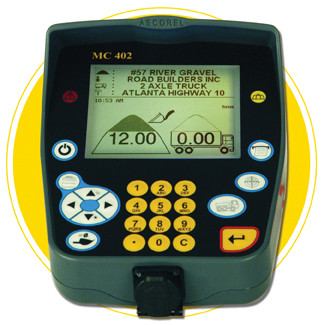 FLO Components Ltd. announces its new partnership with ASCOREL USA to sell and install their complete product line of onboard scales. FLO Components is now responsible for product sales, installation and service of the Ascorel onboard scales product line. With the Ascorel product line, FLO Components Ltd. has a complete range of weighing solutions to meet the needs of material handling industries such as aggregate, mining and recycling in Ontario and Manitoba.
Now, more than ever, it is crucial for companies to track and contain costs. FLO Components can help them achieve that goal by keeping their machines running properly using lubrication systems and increasing their efficiency with onboard scales. The Ascorel line of onboard scales further enhances FLO Components' ability to help customers lower operating costs through a more efficient method of on-site loading.
"Companies are seeking new ways of lowering their operating expenses. It is common for a material handling facility to have to adjust 14% to 17% of their trucks each day. When you factor in fuel, labor and equipment costs, that adds up to thousands of dollars of unnecessary expense each month. Our scales can help reduce that cost significantly," says Yannick Bashizi, business development manager for Ascorel USA. "FLO Components brings a wealth of experience and success in the sales and distribution of installed aftermarket systems for the material handling industries. We see a tremendous need for our products in the North American market. Partnerships with companies such as FLO Components that sell, install and do on-site service of complementary products and have a proven track record for customer satisfaction are the foundation of our success in helping our mutual customers become more efficient and profitable."
Source: FLO Components Ltd