John Deere Expands Compact Track Loader Line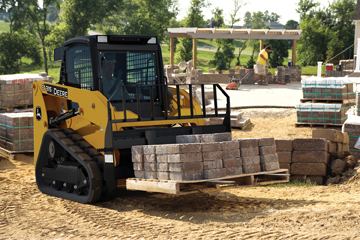 John Deere has added the small frame CT315 to its compact track loader line, a 45-hp unit that already meets interim Tier 4 emissions standards.
The CT315 becomes Deere's first radial lift compact track loader, as well as its smallest, with a 320 mm track and a narrow overall machine width of just over 152 cm.
While the CT315 is compact, it is a production machine, with a powerful 680 kg rated operating capacity. Its cushioned bucket and lift cylinders provide smooth deceleration at the end of the boom-lower position and also cushion the bucket when curling and dumping a load.
The CT315 offers an industry-best 360° view that is uninterrupted to the sides, both above and below the lift arms. This means the operator can also see the tracks and the ground around the machine with the boom in the resting position. The low-sloped rear hood allows unmatched rear visibility, rare for a radial lift-style machine, as there are no tall rear towers to block key sight lines necessary while operating in reverse.
John Deere's industry-leading 60/40 weight distribution from the back to the front of the machine gives operators a great balance of stability, power and maneuverability under load.
Under the hood, the impressive torque and torque rise performance of the Deere PowerTech™ 4024T 4-cylinder 2,4 l engine provides superior engine lugging capability while working heavy loads.
Track loader-specific boom and bucket breakout forces make the CT315 a superior digging machine, while less than five pounds of ground pressure per square inch make it ideal for work on turf. The planetary drive system gives the unit best-in-class pushing power in grading applications.
The unit's wide-open track frame configuration enables easy cleaning, and a simple track sag check system and tension design greatly lowers the risk of de-tracking.
The CT315 also takes a wide variety of John Deere Worksite Pro attachments, further enhancing jobsite productivity.
Source: Deere & Company