Eaton Awarded Hydraulic Systems Contract For Emsworth Locks And Dams Overhaul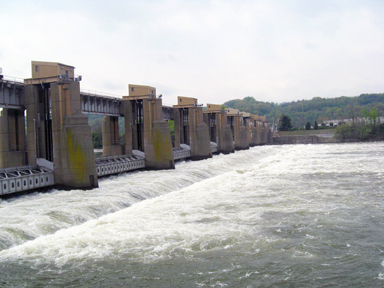 Eaton Corporation recently announced it will be a key supplier in the U.S. Army Corps of Engineers rehabilitation of the Main Channel Dam at the Emsworth Locks and Dams on the Ohio River near Pittsburgh, Pennsylvania. The U.S. Army Corps of Engineers Pittsburgh District is rehabilitating the Main and Back Dams at Emsworth, built in 1938, to ensure reliable navigation on the upper Ohio River.
Joseph B. Fay Company, of Tarentum, Pennsylvania, the prime contractor for the three-year rehabilitation project, has subcontracted Eaton to supply hydraulic systems and related installation services that will be used in the replacement of seven of the Main Channel Dam's eight lift gates and gate operating machinery.
"Eaton offers virtually all the hydraulic system components used in the civil engineering industry, which is an important, emerging market for Eaton," said Kevin DuPont, Eaton product sales manager. "Providing turnkey support for the Emsworth project demonstrates our strengths and positions Eaton well to support global infrastructure upgrades."
Eaton will begin supplying components for the Emsworth Main Channel Dam upgrade in the third quarter of 2009, with anticipated completion of the project in 2011.
Eaton's Hydraulics Group is a segment of the company's Industrial Sector. The business is a worldwide leader in the design, manufacture and marketing of a comprehensive line of reliable, high-efficiency hydraulic systems and components for use in mobile and industrial applications. Mobile and industrial markets include agriculture, construction, mining, forestry, utility, material handling, earthmoving, truck and bus, machine tools, molding, primary metals, automotive, power generation, port machinery and entertainment. Eaton's Hydraulics Group provides customer-driven solutions under product names such as Aeroquip®, Boston®, Char-Lynn®, Eaton®, Hydro-Line®, Synflex®, Vickers®, Walterscheid™, and Weatherhead®.
Source: Eaton Corporation