Fire Suppression Unit for RTV900 Utility Vehicle

Kubota Tractor Corporation has partnered with E.J. Metals, Inc. of Hortonville, Wisconsin, to launch an exclusive drop-in high pressure fire suppression system, which is performance-matched and hydraulically-powered by Kubota's RTV900 Worksite Utility model. The new unit, named "Assault Force 70", will provide fire departments, communities and municipalities with a low-cost quick-response unit designed to respond to a diverse range of fire situations.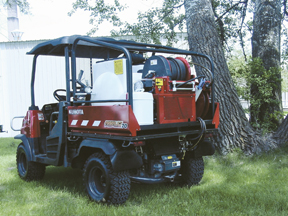 "Together with Kubota's expertise, E.J. Metals has designed the Assault Force 70 as a versatile high-pressure fire suppression unit that is powered directly from the RTV900's remote hydraulic circuit," says Dan Muramoto, product manager for Kubota.
The Assault Force 70's state-of-the-art high pressure unit uses a fraction of the water volume versus lower pressure systems, resulting in better run times and less damage to property. "Using biodegradable Class A foam at a 2% mix rate, the unit runs for a minimum of 13 minutes at continuous full-discharge using only 265 l of water," states Kevin Quinn, president and founder of E.J. Metals. "This unit can extinguish a fully-engulfed car fire with less than 95 l of water."
Because it is powered by the RTV900's remote hydraulic circuit, this fire suppression system does not require a separate gas engine, eliminating the risk of flammability. The Assault Force 70 system requires only minor electrical and hydraulic hookups, along with the removal of the standard cargo box sides and tailgate; a four-pin system securely retains the unit on the cargo box floor and allows for easy removal.
A remote hydraulic utility valve system with a redundant hydraulic oil cooler, reservoir, and filter for continuous-duty use comes standard equipment for the RTV900 Worksite Utility model. Additionally, eight complementary heavy-duty hydraulic tools are available for the RTV900s – adding even greater usefulness and versatility to the hard-working machines. A key tool for fire-fighting applications is Kubota's hydraulic submersible pump, which can be used to quickly refill the Assault Force 70's or other water tanks from remote water sources such as pools, ponds or lakes at a rate of 945 l/min. Other Kubota hydraulic tools such as the chain saw and breaker can be used for maintenance duty when not fighting fires.
Source: Kubota Tractor Corporation