Jenstar's Equipment Fleet Expands With Addition
of New Wirtgen W 210 Milling Machine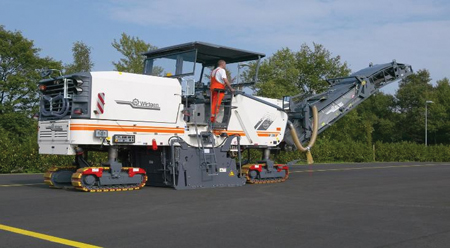 Jenstar Ltd. is pleased to announce the acquisition of its new Model W 210 Wirtgen Milling Machine. This powerful, high performance machine will enable Jenstar's crews to remove large areas of highway pavement to a depth of 30 cm in just a single pass leaving a perfectly cut surface that is ready for repaving.
The purchase of the Wirtgen W 210 milling machine compliments Jenstar's existing fleet of road milling equipment and will help customers control costs and stay on schedule.
The W 210 runs on four heavy-duty crawler tracks and, when used on city streets, can be steered right up to flush-cut against the curb edge. This feature means more efficient and consistent milling and eliminates the need for expensive reworking.
Driven by two powerful 6-cylinder, 340 hp Cummins diesel engines, the W 210 sets new standards in ecological acceptability. Significantly reduced exhaust emission levels meet EPA Tier III standards while lower fuel consumption means fewer milling interruptions and faster completion of every job.
Source: Jenstar Ltd.