Creating the Vögele Paver World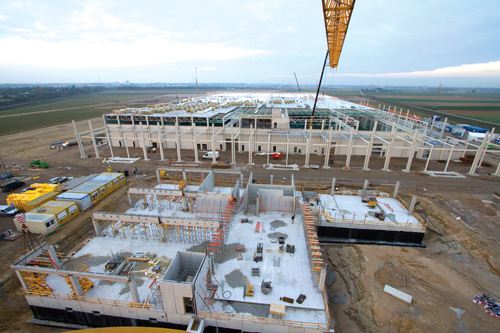 The €100 million invested in the construction of the new headquarters is a clear indicator of the Wirtgen Group's confidence in Germany as a company location.
The new factory in Ludwigshafen features a highly flexible layout and optimally coordinated logistics and production processes. They form the basis for the high quality of Vögele road paving equipment, stable work flows and further boosts to productivity.
Building work for the production halls is already completed. Work will focus on the building services systems in the first quarter of 2010. This will involve such works as heating, air-conditioning, ventilation and electrical installations. Work will also begin on fitting the aluminium and glass façades, as well as fitting the office interiors, the production hall installations and outdoor facilities.
Covering some 37 ha, the world's most advanced factory for the production of road pavers will enter full operation in the fourth quarter of 2010.
Top training at Vögele
In addition to the future-oriented approach to production, training is also a major priority at Vögele.
Construction of the 2150 m2 training center will provide Vögele apprentices and course participants from customers all over the world the perfect learning and training environment.
Training courses for customers are held at Mannheim for some 3000 participants each year. At the new headquarters in Ludwigshafen, the medium-term goal is over 6000. The focus in future will be on machine technology and applications technology. Three generously dimensioned training halls will be available to this end, along with a large area for practical paving exercises.
Source: Joseph Vögele AG