Specially Designed Western Star Trucks for Hauling Windmill Towers
Clark Tucker has been in the heavy haul truck business for more than 40 years, and is well aware of what it takes to be successful when hauling unique, heavy specialized equipment.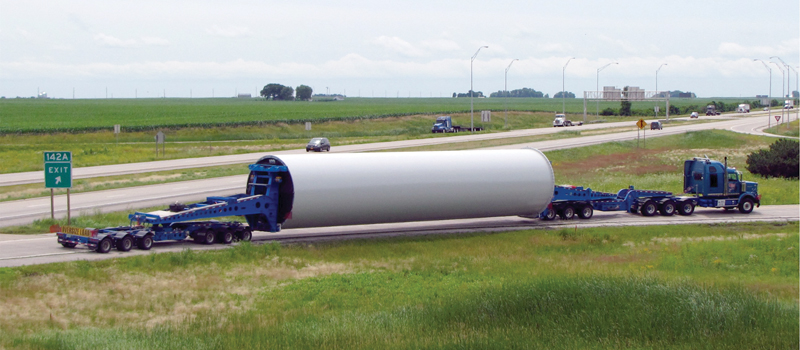 "Growing up on a farm, I bought my first truck, a 1946 Dodge, and never looked back," said Mr. Tucker. "I've been both a heavy-haul trucker and a new and used truck dealer, so I'm well-versed on what it takes to move heavy equipment. As long as I have the proper tractor, I know I can get the job done."
With the increased demand for the development of wind energy, he recognized there would be an increased need for hauling wind turbine related equipment. In 2002, Carl Tucker opened his own wind transportation business, Indianapolis-based Modern Machinery Movers, which now employs more than 10 drivers.
"I truly enjoy moving any large or difficult equipment, and that's why I wanted to start this business," said Mr. Tucker. "I also knew there would be a future in wind turbines, which would require special custom built tractors. Having been a former Western Star dealer, I knew this would be the manufacturer of choice."
Commissioned to haul wind turbine towers across the United States for companies that include General Electric, Siemens, Westinghouse, Mitsubishi and Vestas, Carl Tucker chose Western Star as his truck manufacturer of choice because he knew he would have complete control of the customization and specialized specs needed for this unique load.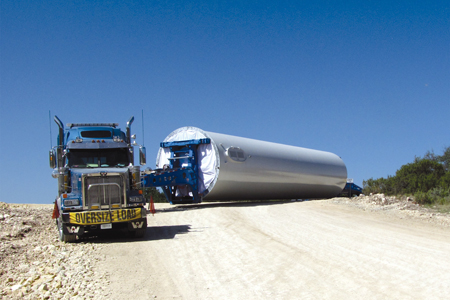 "I wanted control over every component that was put on my truck," said Mr. Tucker. "From the front bumper to the taillight, even down to the types of bolts and frames - I built these trucks exactly how I want them."
Modern Machinery Movers's customized twin-steer tri-drive Western Star® 4900 SA, is a unique, five-axle tractor with a 515 hp Detroit Diesel® Series 60® engine, 18 150 kg front axles and 31 300 kg rears. The 13-axle steerable trailer features a double Schnabel unit that carries the wind towers.
In addition to the twin-steer, Modern Machinery Movers also operates three Western Star tri-drive set-back 4900 SA tractors for heavy equipment. These trucks feature a 515 hp Series 60 engine, 18-speed Eaton transmission, four speed Spicer auxiliary transmission, 9075 kg front axles and 31 300 kg rears.
"These unique heavy-spec tri-drive tractors do a superior job of balancing the weight distribution and increasing maneuverability for the on-site, off-road capabilities of these units," explained Mr. Tucker. "The companies we haul for have to build special roads in order to reach these wind turbine sites, so our trucks have to be able to maneuver between turns, hills, mountains, rock, gravel and dirt roads."
The Western Star 4900 SA stands up to any environment. Modern Machinery Movers's tri-drive's are the ultimate combination of performance and durability - critical to the heavy haul business - and Tucker gives the 4900 SA high marks for its increased payload opportunities.
In addition, Mr. Tucker also notes that comfort and drivability surpass anything else on the road. The 4900 SA truck's sloped hood makes for superior visibility through off-site terrain, and although all of his trucks are hauling massive machinery, he also explains that the quiet ride can't be matched. "These trucks have superior on-site capabilities compared to any trucks with ordinary specs. The rugged durability, comfort and reliability out-weigh any other truck on the road. I wouldn't want to operate anything else."
Source : Western Star Trucks