The New Generation of Wirtgen Large Milling Machines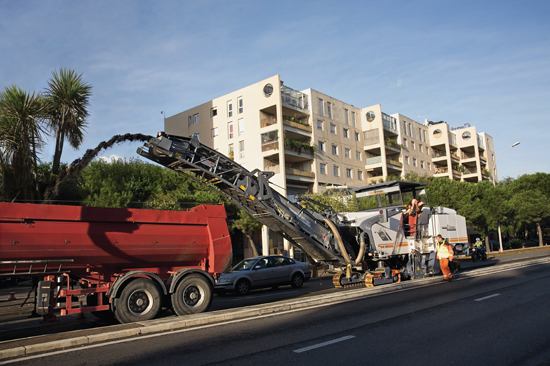 With the W 200 and W 210, Wirtgen launches two truly efficient models in the large milling machine range. They broaden the unique portfolio offered by the market leader to a total of 17 cold milling machines.
With its entirely new design, this generation of large milling machines offers something very special: the machines incorporate many innovative features in terms of milling performance and milling job, enabling them to be adjusted to the required application with greater flexibility than ever before.
For the machine user, this concept results in tremendous cost savings and thus a very favourable total operating cost balance.
Three milling widths, variable tool spacings, low weight
Both large milling machines are available with a standard milling width of 2 m, but can optionally be fitted with a 1,5 m or even 2,2 m wide milling drum. The tried and tested FCS Light quick-change system for milling drums enables the machines to carry out a wide variety of different milling jobs as various milling drums can be used. Both machines feature a maximum milling depth of 33 cm.
The large milling machines can be used for extensive surface course rehabilitation, the selective removal of pavement layers, and fine milling jobs using drums with different tool spacings. As a high-performance milling machine, the W 210 is equipped with a particularly strong engine offering an output of 671 hp. Its relatively low operating weight of 28 100 kg ensures ease of transport. The W 200 is equipped with a 550 hp engine. Its weight of 27 100 kg makes transport just as easy, and enables the very compact large milling machine to work with maximum efficiency – whatever the milling job.
Dual-engine design of W 210 significantly reduces fuel consumption
The W 210 drive design presented by Wirtgen GmbH is an innovation unprecedented in cold milling machine technology. The use of two diesel engines results in the unique advantage of the operator being able to utilize the engine power selectively depending on the specific job requirements. Machine users will thus benefit significantly from a fuel cost reduction by up to 25% compared to conventional drive technology.
For situations on the construction site are often the following: on a particular day, the large milling machine requires the maximum possible engine power as it needs to work at a milling depth of 30 cm; on the next job, however, high area performance at a low milling depth of only 4 cm is called for.
The total power of 671 hp provided by the two engines is unleashed for the large milling depth whereas the operation of one engine is sufficient when working at a depth of only 4 cm. The second engine can be switched on and off as required. If the second engine is added on, it automatically runs in the speed range of the first engine.
This drive design is also truly environmentally friendly.
Using only one engine in less demanding conditions will result in correspondingly lower exhaust and noise emissions, which protects both the machine operator and the environment.
Source : Wirtgen GmbH