Norway Buys Rubber Tracks For CV90 Afghan Operations
Two Norwegian Army CV9030 infantry fighting vehicles have successfully been using rubber tracks in northern Afghanistan since December. The 28-t BAE Systems vehicles are the heaviest to have used them on operations.
The rubber track system is jointly developed by Soucy International in Drummondville, Quebec, and BAE Systems in Sweden. Soucy has designed and produced the tracks and BAE Systems has qualified the system in full-scale trials. The tracks reduce vehicle weight by more than one tonne compared with conventional steel tracks. They also significantly reduce noise by 10dB and vibration levels by 65%.
"The reduced vibration levels are increasing the life expectancy of electronics, optronics and ammunition, which will significantly reduce vehicle running costs," said CV90 platform manager Dan Lindell. "The tracks also improve stealth, reduce crew fatigue and increase mobility in many conditions, such as on snow and ice."
"Our vehicle crews were a little sceptical of the rubber tracks at first, but once they used them, they became big fans and really appreciate the reduced vibration and quieter operation," said Major Per Rune Hansen the CV90 fleet manager for Forsvarets logistikkorganisasjon (Norwegian Defence Logistics Organisation).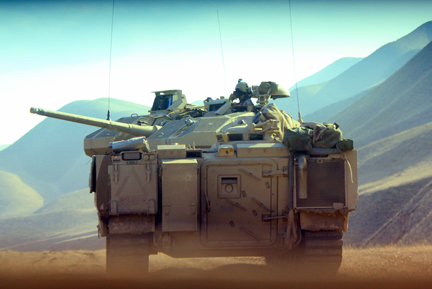 Noise and vibration from steel tracks are coming under increasing scrutiny because of ever-tightening health and safety legislation across the world.
"Health and safety is another reason we are pushing the limits of rubber track technology," said Lindell. "Rubber track performance and track life is increasing all the time, which is why Norway has bought the tracks."
BAE Systems technical and durability tests on a CV90 over several years weighing 28,000 kg gave good results, with a track life comparable with conventional steel tracks. Trials by the Norwegian Army in late 2010 were so positive that the two vehicles were sent to Afghanistan before the planned schedule was completed.
CV90 trials at 35 tonnes will take place through 2011. The increasing vehicle weights possible with rubber tracks are the result of advances in rubber track technology and vehicle configuration. Also planned for early 2011 are mine blast trials to assess the effect of blast and fragments on the tracks.
"BAE Systems and Soucy partnership has created a product with significant advantages that can be transferred to other vehicle fleets. We are continuing to invest in CV90 to keep it at the forefront of its class," concluded Dan Lindell.
BAE Systems works with Soucy on rubber tracks for several of its lighter-weight armoured vehicles, including the go-anywhere BvS10 and the M113 armoured personnel carrier which Norway has deployed with rubber tracks in Afghanistan. The joint development with Soucy on rubber tracks for CV90 began as part of BAE Systems' bid for the Close Combat Vehicle programme.
Source: BAE Systems
Soucy International