Demanding Tunnel Contract Completed Using Hydrodemolition Robots
A project to remove concrete from the Kingsway Tunnel under the River Mersey, which was greatly restricted by the hours possible for working, has been completed by Buxton Water Ltd using an Aqua Cutter HVD robot from Swedish specialist Aquajet Systems.
Hydrodemolition specialist Buxton Water Ltd has used an Aqua Cutter robotic hydrodemolition machine to remove large patches of concrete from the road deck of the Kingsway Tunnel under the River Mersey in Liverpool, England. The Project on the 2.4 km long twin road tunnel could only be undertaken at weekends to minimize disruption to traffic, which consequently required a very fast working technique that could not be achieved by the more traditional methods.
Use of a robot cutter also reduces the manpower needed on site, and greatly increases the safety factor as the machine is operated remotely. The work was undertaken over 26 weekends within a seven-month period, concrete removal averaging 0.74 m3/h during 520 hours of work.
Buxton's managing director Mark Hothersall said the company used the Aqua Cutter HVD robot on large patches that had an area of 0.25 m2 or more.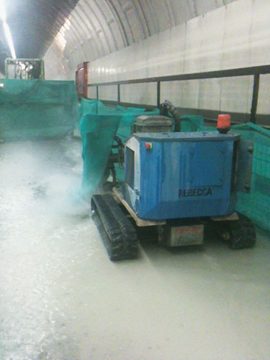 Buxton Water operates the largest UK-based robotic hydrodemolition fleet from Aquajet Systems in Sweden, the company saying that this system of concrete removal provides the opportunity for more than five times greater productivity than conventional methods.
With the robotic Aqua Cutter remote controlled and able to operate within restricted access areas, there is no need to have any personnel within the demolition area while the work is being carried out, a significant benefit in improving safety.
Using a high pressure jet of water, the diesel-powered Aqua Cutter robot cuts through the concrete without causing any damage to the structure or the reinforcement bars.
On each weekend the Kingsway Tunnel was closed after the Friday evening rush hour, and the challenge was to remove as much concrete as possible within a 20-hour period, allowing time for the main contractor, Volker Laser, to complete the repairs with sufficient curing time for reopening early Monday.
Mr. Hothersall says the works schedule allowed for a gradual build up in weeks one and two to ensure the systems and processes worked, and thereafter the target was a minimum removal of 13 m3 on each weekend. "Repair patch sizes varied from less than 0.1 m2 up to 80 m2, cutting to an average depth of 110 mm to expose the embedded steel," he says.
Actual productivity per weekend varied according to number and sizes of patches to be removed.
"We were always confident of exceeding the minimum requirement, and what really interested us was to know just what could be achieved in such a short working timeframe," says Mr. Hothersall. "We actually achieved an average removal rate of 14.8 m3 per 20-hour weekend shift, and peaked at 17.9 m3. Such consistently high levels of productivity demonstrate the effectiveness and efficiency of the Aqua Cutter hydrodemolition system, particularly when coupled with effective management of logistics and an outstanding contribution from our jetting crews."
Issued on behalf of Aquajet Systems AB by Joem Promotions