New Mercedes-Benz Arocs construction site truck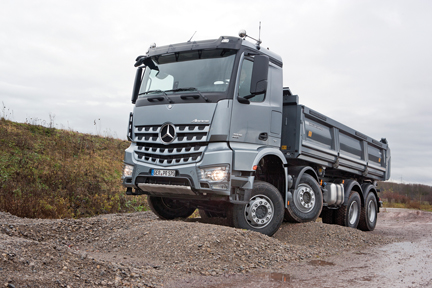 In 2013 Mercedes-Benz Trucks is continuing its product offensive for heavy-duty commercial vehicles featuring Euro VI-compliant engines. The campaign commenced in 2011 with the launch of the new Actros long-haulage truck. It was followed last year by the Antos for heavy-duty distribution transportation, and the Arocs, "the new force for construction applications," is now celebrating its world premiere.
The investment in the development of new vehicles is paying off. In 2012 Daimler Trucks produced almost as many vehicles in 11 months as it did in the whole of 2011, when the division's six truck brands (Mercedes-Benz, Fuso, Freightliner, Western Star, Thomas Built Buses, and BharatBenz) manufactured approximately 426,000 vehicles.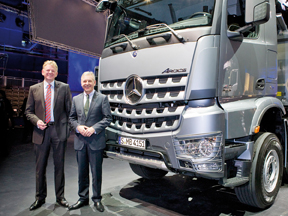 Beginning in May 2013, the new Mercedes-Benz Arocs will be gradually introduced in Europe. In addition to being extremely environmental friendly as a result of Euro VI technology, the special construction vehicles boast three special attributes: power, efficiency, and robustness.
Andreas Renschler, Head of Daimler Trucks, predicts that the all-new Arocs will have a bright future. "The commercial vehicle business will continue to grow globally," he said. "This is due, in part, to the construction industry, which estimates that alone in Germany there is a demand for 250,000 new apartments per year. New construction was about 40,000 units below this figure in 2012 and will probably be about 20,000 units lower this year. In other words, the construction industry has a lot of catching-up to do."
Source: Daimler AG