Silicone Joint Sealants Used in Construction of New Airport Runway
Silicone joint sealants from Dow Corning Corporation were selected for use in the reconstruction of the primary runway at Andrews Air Force Base. Also referred to as Joint Base Andrews, the base operates the only military runway within the U.S. National Capital Region and supports the presidential airlift mission (Air Force One), aeromedical evacuation flights and contingency response scenarios.
The west runway – one of just two at the base – was originally built in 1960 with an expected 25-year lifespan. Not surprisingly, by 2010 it was failing and needed to be completely replaced. The construction project, which began in late summer 2010, involved the replacement of 3,444 m of the 61 m-wide concrete runway and 7.6 m of asphalt shoulder on each side.
Because Joint Base Andrews only has two active runways, the replacement of the west runway needed to be done as quickly as possible to minimize the disruption of operations. The materials used for the construction of the runway also had to be easy to work with under a variety of weather conditions.
As one-component, cold-applied materials with a constant consistency over a wide temperature range, Dow Corning® 888 Silicone Joint Sealant and Dow Corning® 890-SL Silicone Joint Sealant are ready to be used straight out of the container and can be applied by hand or with a pump – without the need to prime the concrete or asphalt. Dow Corning 888 Silicone Joint Sealant also skins over rapidly, which helps speed up the construction process.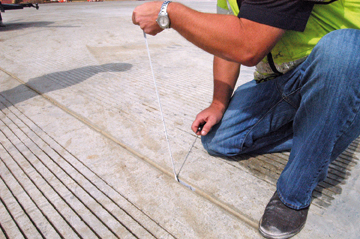 The joints between the large airport runway slabs are specially designed to move within the silicone's superior movement capabilities (+100/-50%) due to concrete and asphalt thermal expansion cycles and as opposing slabs deflect during an aircraft takeoff or landing. In fact, Dow Corning 888 Silicone Joint Sealant and Dow Corning 890-SL Silicone Joint Sealant meet the Federal Aviation Administration (FAA) P-605 silicone sealant requirements for use in airfield applications, and Dow Corning 890-SL Silicone Joint Sealant is designed for use in concrete-to-asphalt joints such as the shoulder joints of runways.
The silicone sealants must be stored properly and meet quality standards when they arrive on the jobsite. Kenseal Construction Products, the Dow Corning distributor for the project, knows the standards and helps run field quality checks along with the paving contractor.
The massive runway project required the use of nearly 91 km feet of silicone sealant. Approximately 265,400 concrete-to-concrete contraction joints and more than 2.1 km of concrete-to-concrete expansion joints were sealed with Dow Corning 888 Silicone Joint Sealant, while about 7.6 km of concrete-to-asphalt joints were sealed with Dow Corning 890-SL Silicone Joint Sealant.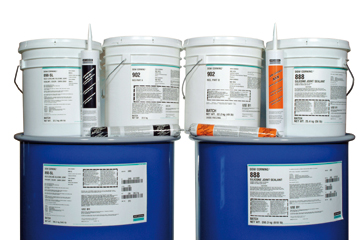 Sealants keep water and salts out of the joints, which helps reduce erosion of the subbase and corrosion of the metal tie bars embedded in the concrete slabs. And Dow Corning® sealants are designed to provide a long-term seal that gives ongoing protection.
Dow Corning silicone joint sealants have high movement capability, stretch easily without putting strain on the joint, and readily return to their original size after being stretched or compressed. They also are weather- and UV-resistant, and thus are a durable solution for runway construction projects.
Source: Dow Corning Corporation