Ease of Operation and Fuel Efficiency Drive
John Deere 644K Hybrid Loader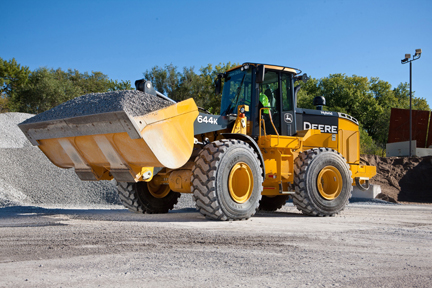 The 644K Hybrid Wheel Loader from John Deere is now available for value-driven customers looking to lower owning and operating costs. The diesel-electric hybrid loader captures regenerated energy as it is being created and uses it to power the machine.
The 644K Hybrid is equipped with a 6.8 l John Deere PowerTech™ interim Tier 4 (iT4) engine that runs at an operator-selected constant speed from 900 to 1,800 rpm. The hybrid boasts a net 229 hp and is equipped with all the key features of the conventional John Deere K-Series Wheel Loader line.
The engine's constant operating speed maintains continuous hydraulic flow at all times, which delivers crisp hydraulic responsiveness and reduces cycle times. The electric motor smoothly delivers torque resulting in fluid operation and a smoother ride. As a result, the 644K Hybrid delivers optimal performance for novice and experienced operators alike.
Another benefit of the hybrid design is noise reduction on the jobsite. Since the engine runs at a constant speed instead of increasing and decreasing speed as the machine is worked, the engine noise is continuous and therefore less noticeable to both the operator inside the cab and bystanders outside.
During operation, a simplified, PowerShift™, countershaft-style transmission maintains smooth shifting for added productivity whether the operator is stockpiling, truck loading or ramp climbing. The 644K Hybrid has four operating speed ranges, but no reverse gear or clutches as direction changes are performed by the electric motor. An integrated, spring-applied, hydraulically released wet-disc park brake requires reduced maintenance and increased machine uptime.
Four main components pace the 644K's electric-drive technology – the generator, inverter, motor and brake resistor.
The generator is brushless and converts the rotational energy from the engine into three-phase alternating current (AC) electrical energy. It can also be driven as a motor to use recycled energy to drive hydraulics and save fuel.
The inverter is a solid-state electronic system designed for reliability, durability, and long life. The water-cooled inverter delivers electrical energy to the motor as demanded by the operator.
The single electric motor is also brushless for added reliability and converts three-phase (AC) back to rotational energy and torque. The motor replaces the job of a torque convertor, but can also work as a generator to recycle energy back into the system.
The water-cooled brake resistor passively consumes energy whenever the power electronics actively control its circuit and is only needed to consume excess recycled energy.
Fleet managers, owners or operators looking to get the most out of their equipment can rely on John Deere WorkSight™, the most comprehensive, easy-to-use suite of technology available for increasing uptime and productivity while lowering operating costs. JDLink™ monitoring provides real-time machine utilization and health data, plus location info. Fleet Care proactively suggests maintenance to prevent costly downtime. Service ADVISOR™ Remote enables the John Deere dealer to read diagnostic codes, record performance data, and even update software without a trip to the jobsite. Integrated payload weighing is also available and enables operators to monitor load data and optimize machine utilization.
Source: Deere & Company