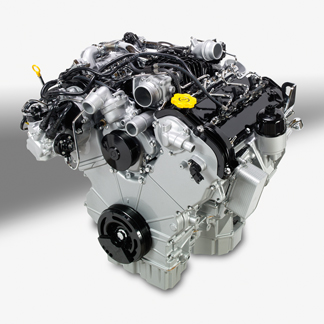 Ram to Build Light-Duty Diesel Pickup
Beginning in third-quarter 2013, Ram will become the only brand in North America to offer a small-displacement diesel engine for its half-ton line of trucks.
The 2014 Ram 1500 will offer a new, 3.0 l V6 EcoDiesel engine, mated with the 8-speed TorqueFlite™ automatic transmission. The powertrain is expected to deliver an outstanding combination of best-in-class fuel efficiency, best-in-class torque and impressive capability.
The 2013 Ram 1500 won Motor Trend's 2013 Truck of the Year, The North American 2013 Truck of the Year and the 2013 Truck of Texas – a rare trifecta in the pickup segment. Building on the award-winning truck, the 2014 Ram 1500 EcoDiesel will further stretch its best-in-class fuel economy title lead and continue to raise the innovation bar in one of the automotive industry's most customer-loyal segments.
The new 3.0 l V6 EcoDiesel is among today's most advanced diesel engines. Its impressive combination of torque and fuel economy marks new levels of performance for small V6 engines.
Ram's newest turbo diesel engine is manufactured by VM Motori, in Cento, Italy.
Source: Chrysler Canada