Powerful Product Solutions for the Construction Industry
Robust product solutions for the construction industry were the focus of ContiTech at the CONEXPO in Las Vegas. Innovative products for various applications – from heat-resistant conveyor belts and high-performance hose lines to air spring systems for construction and agricultural vehicles – were on display. The technology company opts for solutions that are both effective and eco-friendly. The complex technologies for the American market are manufactured locally – in numerous factories in the U.S, Mexico, and Brazil.
Tailor-made Conveyor Belt Solutions for High Temperatures
The ContiTech Conveyor Belt Group offers unique conveyor belts for the transportation of hot bulk materials being utilized by industrial companies worldwide. These belts can be used to transport extremely hot materials (up to 530°C). The conveyor belt can be manufactured using different components and compounds depending on the type of application, thus ensuring tailor-made solutions. For example, the new HEAT CONTROL insulating layer reduces the transmission of heat from the surface of the conveyor belt to the strength members of the carcass by as much as 40°C.
New Developments in Enclosed Conveyor Belts
With the MegaPipe, ContiTech sets new standards in closed-trough belt technology. The maximum dimension of the MegaPipe is up to 90 cm in diameter, while standard brands do not exceed an external diameter of 70 cm. Thus, the capacity of the conveyor system is increased by more than 100% compared to conventional closed-trough belts.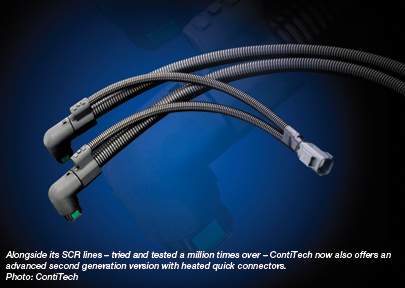 With this new development, the ContiTech Conveyor Belt Group now provides an enclosed conveyor belt solution which can transport large lump sizes. MegaPipe can be utilized immediately after a primary crusher application.
Comprehensive material and process expertise
ContiTech Fluid Technology has developed ultra heavy-duty hot-end fuel lines specifically for modern high-performance engines. They can withstand pressures of up to 35 bar and operating temperatures of up to 180 °C.
"Thanks to our comprehensive material and process expertise, we are also a development partner and original equipment manufacturer of tailor-made complete solutions for fuel applications including hoses, pipes, tubes, fittings, and quick couplings designed to transport media such as gasoline, diesel, hydrogen, and LPG in engine fuel supply systems," says Achim Liecker, sales manager for Industrial Vehicles. Elastomers and plastics are used here, combined with materials such as textiles, steel, and aluminum.
The ECO AC refrigerant circulation system from ContiTech Fluid Technology can be used to clearly optimize the air-conditioning systems in commercial vehicles. This ranges from a performance improvement for the air-conditioning unit and lower consumption through to reduced pressure losses and enhanced design.
Large hoses in almost every length
Concrete-handling hoses from ContiTech are tough. In mining, tunneling, and structural and civil engineering, large hoses from ContiTech ensure that process water, oil, cement, and bulk material can be reliably transported even under pressure.
High Performance Air Springs for Suspensions in Heavy-Duty Vehicles, Agriculture Applications, Cabins and Seating
Off-Highway vehicles are increasingly fitted with air springs, or air bags, to ease the ride comfort and to protect the vehicle body due to the nature of the off-road conditions. Rolling lobe piston-style air springs and convoluted air bellow actuators are used in axle suspensions on agriculture, construction and mining vehicles.
Air springs can also be used in agriculture implements like boom sprayers, seeders and trailers to stabilize the boom, provide suspension or serve as a low cost actuator with high reliability. Sleeve type air springs used in cabin suspensions perform better than conventional steel-springs due to their low natural frequency, which greatly enhances a commercial vehicle's riding comfort. Driver's seats fitted with air spring systems give the operator's workplace a more ergonomic and comfortable design, thereby reducing fatigue and work-related health risks.
Source: ContiTech AG