New Options Now Available for Western Star 4700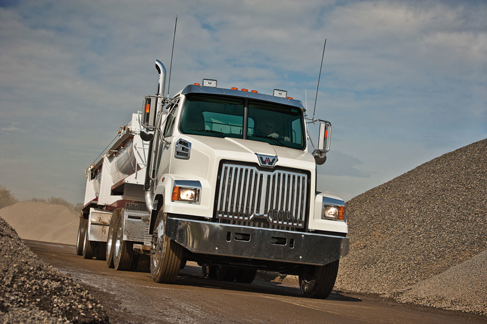 Western Star Truck Sales, Inc. recently announced that a frame rail mounted vertical exhaust stack is now offered as an option for Western Star® 4700 set-back and set-forward truck and tractor models. This configuration is now available in combination with the Western Star aerodynamic roof and side fairing options.
Preferred by vocational fleets that pull dry van and reefer trailers, the addition of the new frame mounted vertical exhaust, combined with the aero fairings, provides fleets with enhanced ability to achieve greater fuel economy with Western Star regardless of their desired exhaust configuration. In addition to the new vertical exhaust, Western Star also has a cab-mounted vertical exhaust and a horizontal tail pipe option.
Hand-built and available with a broad range of engine choices and many other options, the Western Star 4700 is the ideal highway solution for bulk haul and construction applications.
Source: Western Star Trucks Sales, Inc.