Space and Robotics Projects Fuel Expansion
for ARGO UTV Manufacturer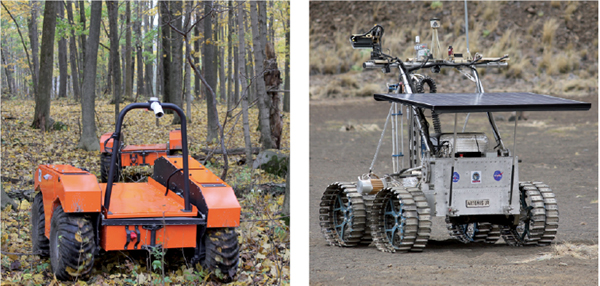 Following on recent contract awards from the Canadian Space Agency, Ontario Drive & Gear (ODG) has announced plans to expand facilities and staff to accommodate the firm's Space & Robotics Group.
ODG is best known as creator of the renowned ARGO family of 6x6 and 8x8 extreme terrain vehicles. Over the past 6 years, ODG has emerged as the go-to designer of mobility platforms for lunar and planetary rovers, developed with funding from the Canadian Space Agency (CSA).
This work led ODG to further develop robotic rovers for commercial applications, and to create its Space & Robotics Group to concentrate on this growing business sector.
Most recently, the group was awarded the contracts from 2 CSA Requests for Proposal with a total value approaching $3 million. ODG will lead development of the ExCore small planetary rover platform and of the Lunar rover drive-train prototype (LRPDP) platform.
These announcements coincide with ODG's launch of the ARGO J5 rover, the first of a family of commercial robotic vehicles derived from lunar-specific rover prototypes. According to Peter Visscher, manager of the Space & Robotics Group, the J5 rover will offer a new level of mobility for applications in agricultural, industrial, security, and defense markets, where extreme mobility, personnel safety, security and durability are required in a proven, affordable platform.
To meet demand for this type of development work, ODG is preparing to open a new 2,800 m2 facility close to its head office and manufacturing plant in New Hamburg, Ontario.
Since 2008, ODG has produced more than 20 robotic rover projects designed for the harshest terrain conditions on earth, and in space. The engineering team's experience and focus on extreme mobility has attracted international attention from potential customers and from the engineering community.
The ARGO J5 rover was based on designs to withstand hostile landscapes and to maintain stability as it climbs severe obstacles. Early production models of the J5 are already in service in Canada, Europe, Asia and South America. Like all ARGO vehicles, the J5 is also fully amphibious.
Source: Ontario Drive & Gear, ARGO Amphibious UTV