New Paver Utility Vehicles from Europe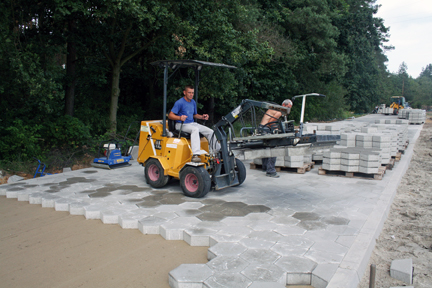 Belgian company Gebr. Geens NV manufactures articulated mini-loaders designed in a particular and unique way to make them ideal for paving applications. Weighing from 800 kg to 2.7 t, made of steel and using components of major brands like Kubota, Bosch Rexroth, and Poclain, they are wide and very compact which gives them an extraordinary stability.
The lifting arm is positioned very low, so it remains very short. The machines offer unprecedented lifting capacity. They are designed to work close to the ground, and reach only modest heights, except for telescopic or H versions.
Thanks to the position of the seat, visibility on accessories is perfect for the operator.
With a multiple variety of accessories, a Knikmops is one of the most versatile machines on the market. It can be used with a bucket, a pavers clamp for manual paving, an automated pavers clamp, cleaning brush, etc.
Where other small loaders are oriented towards agriculture, Knikmops started 26 years ago building small machines for paving companies. The Knikmops range is an addition to this.
The Rollmops 4x4 and Knikmops 70 will be sold in the U.S. and Canada as "Paver Utility Vehicle", imported by Pave Tech, Inc. of Prior Lake, Minnesota.
Source: Gebroeders Geens NV