Atlas Copco's Bucket Crusher Range Expanded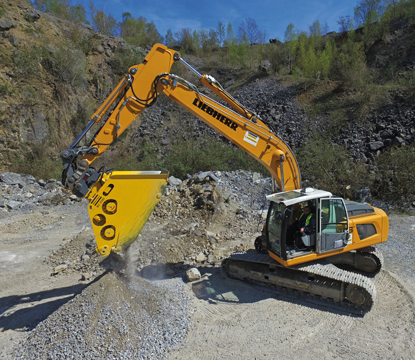 At Bauma 2016 Atlas Copco launched its next game-changing generation of bucket crushers, the BC 2500 and BC 3700, offering higher output with significantly less maintenance than the previous attachments.
With the new BC 2100 and BC 5300, the range now includes bucket crushers with service weights of 2000-5300 kg, suitable for carriers weighing 18-54 t.
Bucket crusher are often an efficient alternative to a mobile jaw crusher for small demolition, recycling and road construction applications, offering a high level of flexibility in terms of operating reach, depending on the mobility of the carrier.
A unique circular crushing cycle gives BC bucket crushers in the next generation unmatched performance with up to 30% higher output than previous models. The advanced twin-drive system comprises 2 powerful hydraulic motors. The sturdy timing belt is designed for long service life and the system provides huge torque right from the start. Full loading capacity can be used without risk of blockages and the absence of slippage during start-up ensures constant power transmission and no extra load on the bearings.
The automatic anti-lock mechanism gives continuous repositioning of the material, ensuring that even larger pieces are guided automatically in the direction of the crushing jaw.
If the material gets jammed, the reversing function enables the operator to change the rotation direction, push the material back into the inlet and thus easily remove the blockage.
Adjusting the crushing size (granulometry) on the new BC bucket crushers is easy. Intuitive functionality eliminates the need for long experience or special craftsmanship. In very little time, the user can adjust the required jaw outlet correctly without special tools.
Source: Atlas Copco