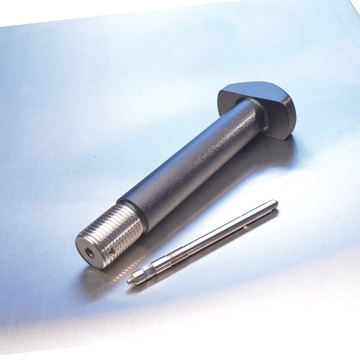 Weighing Containers During Loading
Speed is one of the main requirements in container loading. The weighing of the loaded containers that has been prescribed since last year by the SOLAS directive can be a time-consuming process. Two methods come into question for this: weighing the entire container just before loading or weighing the individual shipments, which are then added to the empty weight of the container. Because of the faster throughput time during the weighing process, the first method is increasing in popularity. The optimum solution for determining the weight of the loaded container is the patented F9205 Twistlock sensor from tecsis. This records the weight directly at the spreader, and therefore makes it possible to weigh the container before loading. Terminal operators therefore save time, which keeps costs down. The sensor is integrated directly in the Twistlock pin, and is supplied by tecsis as an overall system consisting of a sensor, a pin and a signal amplifier as a Plug & Play solution. The system fits all spreader modules, and commissioning as well as retrofitting are extremely simple.
The sensor element has considerable long-term stability, low temperature dependency and high resistance to overload situations. An analogue interface (4...20 mA) or a CANopen interface is optionally available as an output signal. This means that the Twistlock sensor can be incorporated in existing measuring systems or a control architecture extremely easily. The sensor can be used in all applications in which containers are lifted using a spreader, and represents an ideal facility for SOLAS-compliant container weighing.
Source: tecsis GmbH