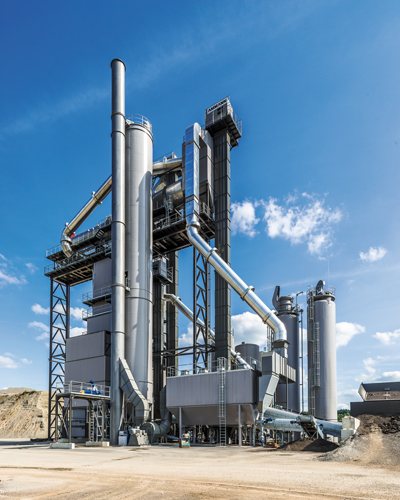 Technology Key to
Ammann Products Showcased
at World of Asphalt

Ammann's technologically-advanced asphalt-related products were featured at the 2018 World of Asphalt Show & Conference held March 6-8 in Houston, Texas.
Ammann has had a strong presence in Europe and other parts of the world for nearly 150 years. It recently began distribution of asphalt-mixing plants in North America, and brings with it a host of experience, technologies and highly successful products.
"These plants are tried and tested at hundreds of locations and in all types of conditions around the world," said Jenelle Strawbridge, national sales manager of Asphalt Plants for Ammann in the U.S. "Ammann technology is renowned for enabling use of high percentages of recycled asphalt (RAP) and reducing emissions and fuel usage. All these efforts result in improved customer profitability."
The first Ammann Universal ABP HRT (High Recycling Technology) Asphalt-Mixing Plant in North America has been installed in Columbus, Ohio. It began producing mix in early December 2017.
The ACM Prime Asphalt-Mixing Plant is perfect for those who have a number of small jobs in varied locations and where frequent transport is required.
The RSS 120-M Shredder, Iron Separator and Screener is a mobile machine that prepares RAP for use in an asphalt plant.
Source: Ammann Switzerland Ltd