Specialist Foundation Engineering on the Baltic Sea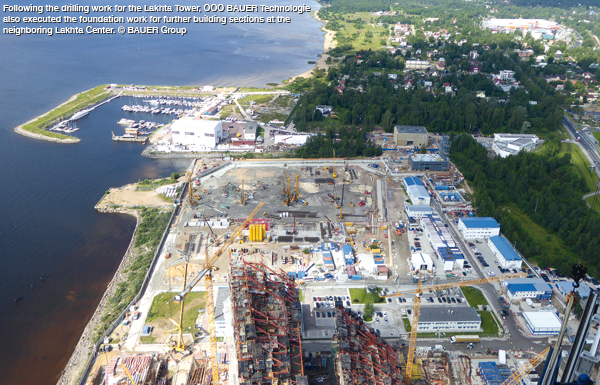 Saint Petersburg, in Russia, is probably the most glamorous metropolis on the Baltic Sea. Its rich past meets the challenges for a modern cosmopolitan city. Even today, the most northerly city of millions is still looking for new identities when it comes to urban planning. This is why an unparalleled construction project is currently taking place on the city's outskirts: soon the Lakhta Tower, which overlooks the sea, will be complete – and will bear the title of the highest building in Europe.
In addition to offices, it will also house shops, cafés, restaurants, a theater and even a museum. The foundation work for the 462 m-tall building was executed in 2013 by the Russian subsidiary of BAUER Spezialtiefbau GmbH. OOO BAUER Technologie constructed 260 bored piles with a diameter of 2 m to a depth of 85 m. Several Bauer rotary drilling rigs from types BG 40 and BG 28 were used for this.
Following the drilling work for the Lakhta Tower, the Russian Bauer subsidiary was also contracted with the foundation work for the neighboring podium building and the stylobate. In total over 1,000 piles with diameters between 620 mm and 1,180 mm were constructed for this in 2013 and 2014.
Last year, OOO BAUER Technologie carried out the foundation work for further building sections at the neighboring Lakhta Center, in which the tower that is under construction will form the distinctive core. In May 2017, OOO BAUER Technologie was awarded the contract for the pile drilling work and the construction of an excavation pit for an additional office complex that required the implementation planning and installation of 1,449 piles, of 870 m of diaphragm wall and other supplementary services. The ground conditions are initially sandy filling material, followed by alluvial deposits. This includes a very soft layer of silt and clay, in which very large granite boulders of up to 2 m can frequently be found. This is followed by a layer of extremely hard claystone, down to a depth of over 100 m.
Six BAUER BG 28 to BG 40 rotary drilling rigs were used as well as 2 hydraulic grabs. Work was completed in December 2017.
Source: BAUER Spezialtiefbau GmbH
BAUER Group