New Quick Connect System Changes the Game for Wheel Loaders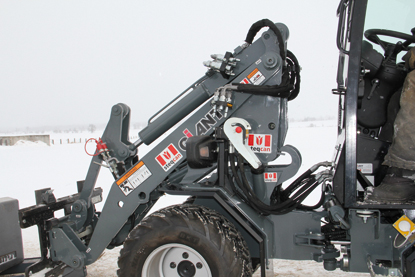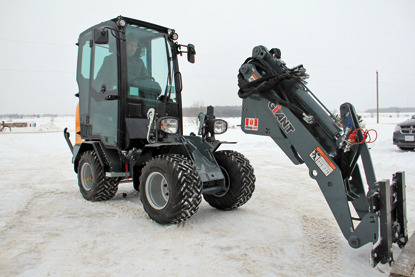 Steqcan Wheel Loaders has developed a unique quick connect system that transforms a simple wheel loader into an easier-to-use, multi-tool carrier.
Unveiled in January at the 2018 Landscape Ontario Congress Show in Toronto, Ontario, the quick connect system was developed for Steqcan's line of Giant wheel loaders to improve usability and versatility of the compact wheel loaders. This new system removes the boom and enables the user to mount the attachment directly to the loader frame. The system can be disconnected within 2 minutes by a single person.
"We aim to improve the working landscape for compact loaders," said John Stoop, the designer of the system. "By removing the boom, the user is no longer limited by the boom's operation and space. This allows for better weight distribution, leverage, visibility, and functionality for their multi-tools."
Among the tools that are made for this system, there are a direct-mount compact snow blower, a mini-dumper, a mini-backhoe excavator, a 3 point front hitch, a forklift mast, and, of course, a standard loader boom.
Ideal for municipalities and landscapers, the quick connect system can, when placed on a Giant D332SWT compact wheel loader for example, work within a unique 91 cm in the narrowest setting and be driven at a travel speed of 19 km/h.
For now, Steqcan has designed the loader quick connect system for 33-45 hp Giant loaders, ranging from 91 cm to 135 cm-wide machines, in the 1,500 to 3,500 kg loader class.
Source: Steqcan Inc.