Yanmar Extends Its Engine Line Up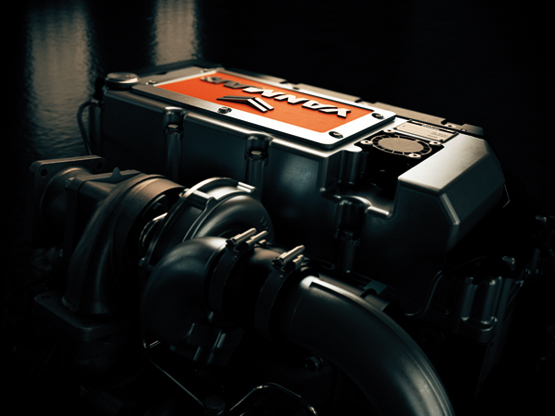 Yanmar has selected the Intermat exhibition to launch its most impressive lineup development for 20 years. Two brand new engine families will be officially introduced at the show, extending Yanmar's current power range up to 155 kW (208 hp).
The smaller one is a 3.8 l displacement engine, named 4TN101, which lines up in the 74 hp to 140 hp power range with torque up to 550 Nm (405 lbf pi).
The bigger one, called 4TN107, has a 4.6 l displacement with power ratings ranging from 120 hp to 208 hp and torque exceeding 805 Nm (594 lbf pi).
Both engines feature a Common Rail injection system, full authority electronics and after-cooled turbocharging (with a 2 stage turbo on the 4TN107 upper ratings). Specific power and torque are among the highest available in the market.
Both engine families will be EU Stage V-certified and share the same design target of reducing the total cost of ownership. Yanmar engineers' efforts were therefore focused on setting new fuel economy targets, leveraging Yanmar's extensive know-how in combustion process optimization gained through its encompassing experience in diesel engines for industrial equipment and marine vessels. Curbing lube oil consumption was another key design target, achieved thanks to a state-of-the-art high precision manufacturing process developed specifically for this purpose.
The after-treatment system consists of EGR and separate DPF and SCR to safeguard durability and ensure uncompromising exhaust gas cleaning performance. Smaller, separate after-treatment modules also allow for easier installation.
Superior durability and robustness on one side and compactness and high power & torque density on the other have been jointly achieved to fulfil the requirements of the designated applications, i.e. construction, materials handling and agriculture.
With the introduction of these 2 new engine families 4TN101 & 4TN107 Yanmar brings its world-renowned reliability and overall top quality to a further extent. Leveraging on its leadership in supplying the free market, Yanmar now extends its success story to a greater power range.
Production is planned to start from the beginning of 2019 onwards.
Source: Yanmar Europe BV