Sustainable Bioenergy Research Consortium
Announces Milestone in Bio-Aviation Fuel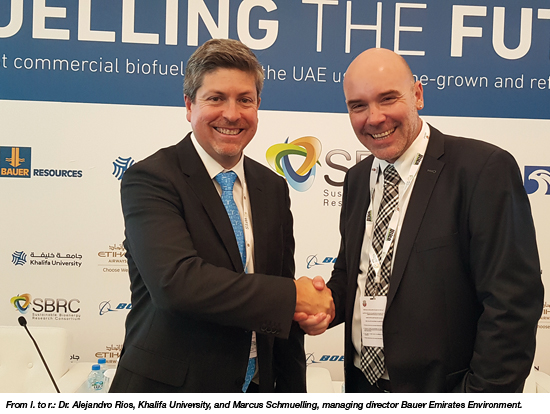 Since January 2018, BAUER Resources GmbH has served as an integral Tier 1 partner to the Sustainable Bioenergy Research Consortium (SBRC), a nonprofit organization established in Abu Dhabi in 2011 as a not-for-profit research consortium to advance the aviation industry's commitment to sustainable business practices by developing technology with the promise of producing a clean, alternative fuel supply. The SBRC was founded by the Masdar Institute of Science and Technology, Etihad Airways, The Boeing Company, and Honeywell-UOP. Since then Safran, GE, and the Abu Dhabi Oil Refining Company (Takreer) and Bauer have joined.
The Masdar Institute is part of Khalifa University of Science and Technology. Bauer Resources supports the consortium with its expertise in the fields of technical equipment, construction and operation of large water treatment plants. The flagship project of the SBRC is the Seawater Energy and Agriculture System (SEAS). Here, researchers from the Masdar Institute are cultivating salt-tolerant, oil-containing Salicornia on 2 ha of land. The sustainably-produced biomass will contribute to fuel hedging practices in the United Arab Emirates in the future.
On January 16, the consortium announced that for the very first time, an Etihad Airways Boeing 787 successfully completed a commercial flight partially fueled by locally-produced and refined biofuels. The biofuel was acquired from the oil contained in the Salicornia plants harvested from the SEAS pilot facilities near Masdar City.
"This is a significant milestone for the UAE and its key industries," stated Tony Douglas, Group CEO of Etihad Aviation Group."This project is a successful proof of concept that is local, viable, cost-effective and sustainable."
"Khalifa University is proud to contribute to the creation of a sustainable biofuel value chain, as well as support the UAE's strategic objectives in the energy and food sectors," said Dr. Arif Sultan Al Hammadi, executive vice-president of Khalifa University of Science and Technology. "As a leading research institution in the region, we remain committed to continuing with the mandate to produce biofuel, clean energy, and sustainable technologies for reducing carbon emissions, as well as water and environment-related research."
His Excellency Dr. Thani bin Ahmed Al Zeyoudi, Minister of Climate Change and Environment in the UAE, also emphasized the importance of innovative and sustainable solutions to significantly reducing harmful CO2 emissions.
Using sustainable feedstock to produce the fuel significantly reduces life-cycle carbon dioxide emissions compared to fossil fuel. Additional benefits: the biofuel is blended directly with jet fuel and does not require any modifications to aircraft, engines or airport fueling delivery systems.
"This ground-breaking development confronts local, regional and global challenges of energy, water and food security," said Her Excellency Mariam bint Mohammed Saeed Hareb Al Mehairi, Minister of Food Security in the UAE.
Finding a sustainable and commercially viable bio-aviation fuel is one of the key challenges facing the aviation industry, according to Jasem Al Sayegh, CEO ADNOC Refining. "We are proud of the role that ADNOC Refining is playing in carrying out this research for the SBRC pilot project. Today represents a significant step forward on the journey towards finding a final solution for commercial-scale aviation biofuel."
"The fact that we, as a consortium's Tier 1 partner, have contributed to the achievement of this remarkable milestone makes us proud. We are confident that this success means that the SEAS project will become an integral part of sustainability in the UAE and beyond. It is also an excellent opportunity for Bauer Resources to share and expand on our knowledge in the production of sustainable biomass. Thanks to our experience, Bauer will be playing a key role in the expansion planned for the SEAS facilities," reiterated Marcus Schmuelling, managing director BAUER Emirates Environment Technologies & Services LLC.
Source: BAUER Resources,
Sustainable Bioenergy Research Consortium (SBRC)