Palazzani Will Be at Bauma 2019 With Big News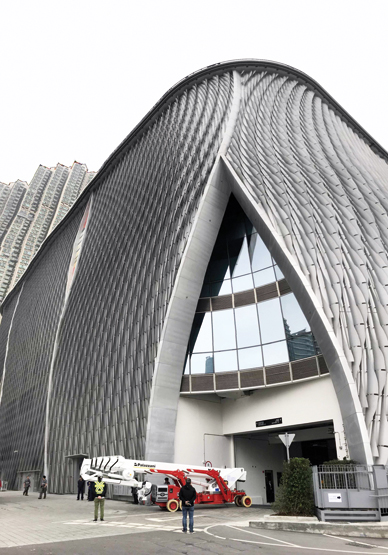 Palazzani R&D department is working on new machines, aiming to impress all visitors at Bauma 2019.
The Italian manufacturer will introduce a new model of the Spider Lift, a machine with telescopic boom and telescopic flying jib, entering the existing large range from 17 to 52 m and available in both crawler and wheel version and bi-energy (diesel+electric) standard power option, as well as ECO and hybrid power option with all possible battery choice (lithium, gel and lead-acid).
The new model incorporates several high-tech new features such as telematics – the Palconnect kit, based on cloud technology – to manage the man/machine interconnection for all operations and information regarding fleet management, as well as troubleshooting and preventive maintenance.
Fleet owners or operators will be able to localize the unit through the GPS, track driving routes, create jobsite parameters and receive information, reports and inspections alerts from a smartphone, tablet or personnal computer.
The telescopic boom is made in high strength "Strenx" steel from SSAB and designed with a new and innovative shape to grant lightness and structural strength.
The machine is simple to use thanks to the automatic limiting system. The working area automatically adapts to the position of the stabilizers and the load in the basket without any intervention from the operator.
Two Spider Lifts on wheels for the Xiqu Centre in Hong Kong
The Xiqu Centre is the first major performing arts venue and the prestigious new home for traditional Chinese opera in the West Kowloon cultural district, Hong Kong. It is a world-class performance venue that respectfully embraces the cultural richness of Chinese opera within a magnificent contemporary expression, making it accessible to new audiences and future generations as it continues to thrive and evolve with modern technology.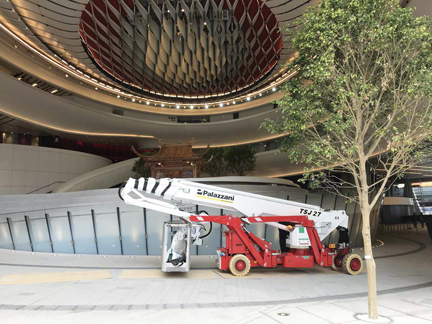 The 8-story building has a total area of 28,164 m2 and houses the Grand Theatre, with 1,073 seats. Flanked by 2 outdoor sky gardens offering visitors panoramic views of Victoria Harbour, the elevated theatre creates space beneath for a 200-seat Tea House theater, rehearsal studios, education and administrative spaces, lecture rooms and retail areas overlooking the naturally-ventilated inner courtyard.
The building's striking design, created by Revery Architecture (formerly Bing Thom Architects) and Ronald Lu & Partners, was inspired by traditional Chinese lanterns and blends traditional and contemporary elements to reflect the evolving nature of the art form.
Stepping through the main entrance, shaped to resemble parted stage curtains, visitors are led directly into a lively atrium with a raised podium and space for presenting the rich and ancient culture of Chinese traditional theater.
A RAGNO TSJ 27/R and a RAGNO XTJ 43/R have been delivered to Xiqu Centre in January by Proficiency Industrial Product, Palazzani dealer in Hong Kong. Their working heights of respectively 27 m and 43 m make them perfectly-suited for indoor/outdoor cleaning and maintenance of the entire building. Their lightness (only 4,580 kg and 10,900 kg), stowed dimensions and wheel version allow them to easily transfer everywhere with great maneuverability and narrow turning radius, without damaging the delicate floors.
The machines can work indoor or outdoor, thanks to the bi-energy power option (diesel engine plus AC electric motor).
Source: Palazzani Industrie