Soilmec at Bauma, Key Player in Ground Engineering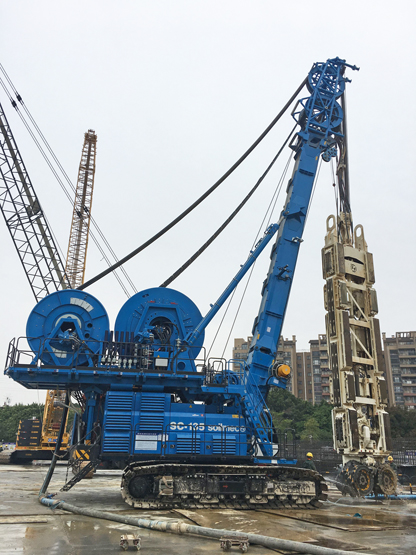 Soilmec will welcome Bauma visitors with comfortable reception areas. The Soilmec booth will allow visitors to discover the many advanced technologies to meet the challenges of foundation and ground engineering, as well as get a first-hand look at some of the new products that will be introduced on the market.
The new SR rigs have been designed to improve their productivity and operating flexibility to an ever higher degree, in addition to operator comfort and safety. The new rigs are fitted with more powerful and lightweight rotaries, powerful diesel engine and increased pull up value compared to prior models. The new generation of SR rigs also have a new winch version pull down system featuring a standardized and simplified design to further improve safety and efficiency. Switching from the cylinder to the winch version is a quick procedure that boosts the multifunctionality and adaptability to different applications. The new generation SR line has also seen a reduction in weight but an improvement in performance thanks to the use of high-strength steels and a new antenna design with standardized section.
The SR125 High Tech platform brings one of the winning concepts from the automotive industry to this market for the first time. Customers can choose a model and then create the rig that best suits their needs. Four different models built on the same base machine can satisfy the most diverse needs through a plug&play system. Four models can be designed for all drilling and soil consolidation technologies, by changing diameters and design depths, extraction force, and weight in transport configuration. The combination of new design and the utmost care for the space inside the machine and the arrangement of power units lead to a significant reduction in noise emissions, making them suitable for use in densely populated areas.
The new micro-drilling rigs are the outcome of Soilmec engineering expertise aimed at increasing performance, safety and innovation. The new drilling rigs stand out for an extensive series of movements which make it possible to work in various positions and to perform lateral movements in total safety. Thanks to innovative kinematic mechanism, the machines can also operate parallel to the tracks. The new SM drilling rigs are designed to be powered by either Tier 3 engines or the new Tier 4 engines boasting high performance and low emissions in addition to extreme ease of maintenance. Thanks to a wide range of rotary heads, clamp/joint breakers and modular antennas with varying travel of the rotary heads, the new models will be suited for an extremely varied range of working applications and technologies.
The Soilmec SM-22 is an evolution of the historic PSM-1350 and SM-20 models that overall have sold more than 300 units worldwide, and have been completely redesigned to ensure high efficiency and productivity levels on site together with the highest safety standards. Thanks to its modular design it can be easily configured in different single rotary fittings, double rotary, top-hammer and vibro-rotary to carry out consolidation, micropiles and anchors with different drilling technologies, direct circulation, reverse circulation, DTH, CFA, jet grouting.
Bauma 2019 will also see Soilmec exhibiting the new Tiger SC-135 hydromill. Soilmec's tried and tested technology has been further refined to offer the most advanced technology available for this type of equipment.
The new SC-135 Tiger is designed to perfectly suit the jobsite, allowing operation in a wide range of working radius and module rotations. The equipment features several improvements, especially in terms of safety and oil contamination, which are the result of years of drilling experience. This equipment encompasses all the best ideas put forward by jobsite experts who use the hydromill daily to improve control, performance and reliability. One feature includes a patented hydraulic system dedicated for cutting module and base machines with the filters installed directly on the main lines to avoid any possible breakdown due to bentonite contamination.
The hydraulic swivel for +/-90° module rotation, the new Cat C27 diesel engine and different winders design solutions are suitable for job sites up to 150 m depth, and guarantees the highest performances in various conditions. The high depth vertical sensor, the independent mobile flaps and the DMS on board complete with the 3D graphic print out panel options means verticality control as never seen before.
The SC-135 Tiger presents a new safe anti-falling system, handrails and ladders, lashing points, remote control boards and reduced speed mode in order to carry out the main assembly/disassembly operations and maintenance procedures in safe conditions. Lastly, this equipment has been designed for a modular assembly, with a max transportation weight of 45 t.
Source: Soilmec Spa