Rototilt at CONEXPO-CON/AGG for the 5th Time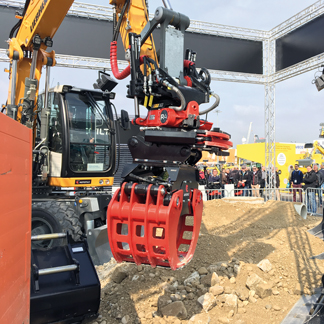 Held every 3 years, CONEXPO-CON/AGG is North America's largest construction trade show. Once again, Rototilt demonstrated how a complete tiltrotator system is changing the way excavators work around the world. For the first time, Rototilt QuickChange™, the next-generation fully automatic quick coupler system for tiltrotators, machine couplers and tools, was also be demonstrated.
At this year's CONEXPO-CON/AGG, held in Las Vegas from March 10-14, Rototilt showcased a wide range of its tiltrotators, optimized tools and leading-edge technical solutions. For Rototilt, this was their 5th participation at the show and they did not disappoint.
"We are looking forward to showing the new generation Rototilt QuickChange™ live for the first time. A live demo every half hour with an excavator, large LED screen and a demo speaker. CONEXPO-CON/AGG is an opportunity for us to get close to our customers and inspire them in how a tiltrotator can transform their excavator and their business," said Anders Jonsson CEO Rototilt Group AB.
Rototilt Inc. was established in 2007 in Brantford, Ontario, as a dedicated North American operation to service and support Rototilt customers throughout Canada and the U.S. Rototilt Inc., who recently moved to bigger facilities due to increased sales and demands, carries a comprehensive inventory of Rototilt® tiltrotators, attachments and spare parts as well as offering a full rebuild facility. Their Service Technicians are available to provide customer technical support and to assist dealers on the installation and servicing of Rototilt products.
"We have a strong increase in demand from North America and during CONEXPO-CON/AGG we have the opportunity to meet with machine manufacturers, dealers and end users from all over the world," concluded Mr. Jonsson.
Source: Rototilt Group AB