New Models Added to VI Generation of Dynapac Rollers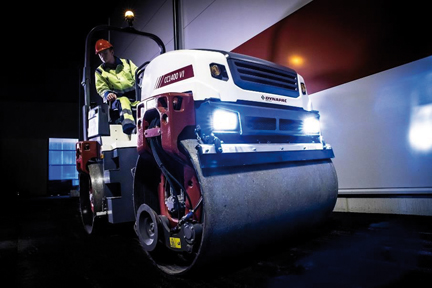 Dynapac North America is proud to add 2 new rollers CC1300VI (4 t) and CC1400VI (4.3 t) to its successful VI generation compact asphalt roller range. Adding those newly-developed double drum and combi versions to the already released CC1100VI and CC1200VI completes the compact asphalt roller range of 2.2 t - 4.3 t in high demand from the North American asphalt paving community.
The CC1300VI and CC1400VI have been designed with the same mindset as the smaller models, to meet the commercial and highway paving industry's tough conditions. By keeping the operator in mind, it results in a robust, comfortable and modern machine producing the best compaction result.
The new generation VI machines have a cross-mounted engine. This is combined with an excellent visibility and massive casted forks with built-in flexible lifting, towing, and tie down possibilities. The CC1300VI and CC1400VI rollers also open new possibilities to select suitable compaction characteristics with optional dual amplitudes and dual edge pressers.
The machine features high frequency compaction with the possibility to choose between dual frequencies (49 Hz/54 hz) depending on different conditions and applications. Dual amplitude (0.18 mm/0.5 mm) function is also available as an option for even more flexibility to compact different layer thickness. Equipped with an asphalt temperature meter (optional) to make sure compaction is done at the right temperature interval. Other optional equipment includes, front right-mounted edge presser/edge cutter, dual front right and left edge presser/edge cutter, and an optional rear-mounted chip spreader. These machine models are also available in a combi-version with four static rubber wheels at the rear.
The range is powered by Kubota diesel engines which reach unbeatable performance with maximum uptime. For the North American market, a 50 hp T4f engine with ECO mode is offered. Patented efficient eccentrics system optimize compaction performance without drawing too much power from engine even in the toughest slope conditions resulting in reduced fuel consumption and carbon footprint. The engine hood is large and it is possible to fully open almost 90° for full accessibility.
The cross-mounted engine is unique for optimal serviceability. The major daily service points under the hood are very easy to reach. All hydraulic hoses, sprinkler nozzles, water pumps and filters for the watering system can be accessed quickly and efficiently. The sprinkler pump and filter are easily accessible behind a cover above the rear drum.
Source: Dynapac North America